Family Fitness During Covid-19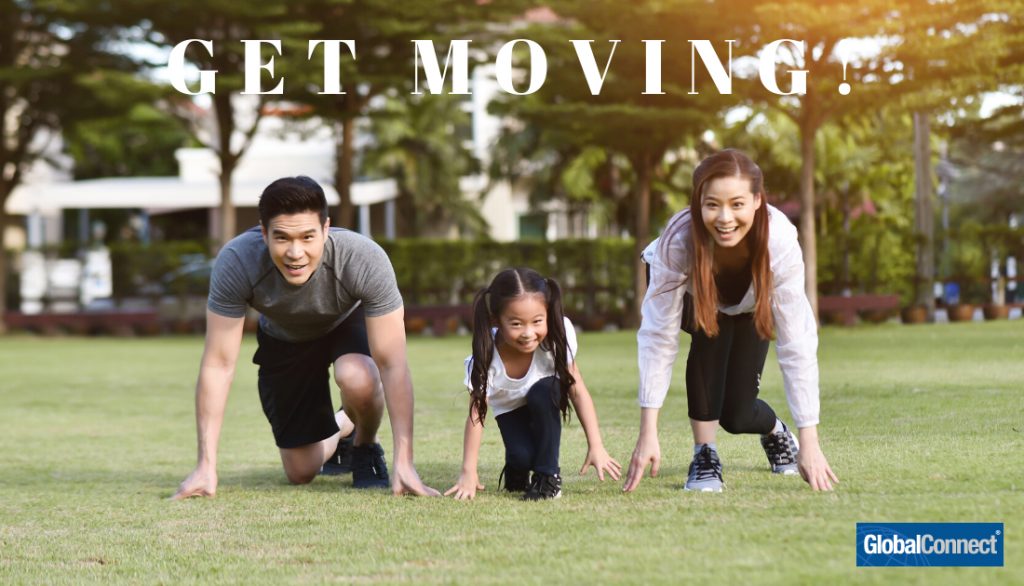 With many parents still working from home, most gyms and public pools remain closed, and more kids are stuck at home rather than attending traditional summer camps. Getting up and moving has never been more important but also never more challenging. Exercise is essential not only for our bodies but also for our well-being as Americans deal with the crisis of the Covid-19 pandemic. There are creative ways you can get your family moving while still maintaining social distance and staying safe.
As many states have moved into Phase 1 and Phase 2 reopenings, the good news is that many local parks and trails have reopened, and there are many opportunities to get outdoors and get active while still maintaining social distance. Your own backyard and neighborhood are the safest places to exercise right now because you can easily keep your distance from others. Plus, getting outside during the summer is essential for kids. Your stress levels will also be lowered with daily outdoor activity.
Here are some ideas for activities you can do with the whole family, including younger children, that will get everyone outside and moving.
Explore hiking trails.
Now is a great time to explore areas you've never been to in your city or to take day trips to areas nearby. Most hiking trails are open, but always be sure to check before you go as every state has different guidelines right now. Pack a picnic lunch and head out to explore local rivers, waterfalls, lakes, and mountains. There are many easy trails for younger children, or if you have older teens, they might be ready to tackle some more challenging trails. Research hiking trails near you and plan several day trips throughout the summer. If you plan to go to an area that may be more crowded, you will want to wear masks when on busy trails where maintaining a six-foot distance is harder.

Turn your backyard into a water wonderland.
Public pools may be closed, but you can still have water fun in your own backyard. Remember running through the sprinkler when you were a kid? Do you remember how much fun that simple activity was? Your kids will love it too. You may also want to invest in some fun water toys like a Slip-n-slide (or create your own), a wading pool, or inflatable waterslide. Having a water balloon fight can get the entire family involved and moving and keeping cool on hot summer days.
Get cycling!
Break out the bikes and start cycling as a family. Ride together in your neighborhood or find local bike paths to explore. Younger children can ride with training wheels, or you can get special seats for toddlers to ride on parents' bikes, or even be pulled behind in a bike trailer. Just make sure everyone in the family has a proper-fitting bike helmet. Find tips for cycling with kids here.
Take a nature walk.
Taking a daily family walk, especially if you have a dog, is an easy way to stay active and connect as a family. You can change up your routes and create scavenger hunts for the kids by trying to find different types of trees, flowers, birds, or other wildlife on your walks. Find other ideas for nature walks with kids here.
Game time!
Introduce your kids to games from your childhood like kick-the-can, hide-and-seek, or jump rope in your yard or surrounding neighborhood. Organize a family kickball or soccer game. Set up a net and play badminton or volleyball in the backyard.
Plant a garden.
There is no better time than now to start a garden. Involve the kids in picking what to grow, and have everyone help with digging and planting as well as maintaining the garden. Older kids can also help with yardwork; teach them to use the lawnmower safely, and have them help with landscaping. Click here to learn more about gardening with children.