Thanksgiving is a holiday that's meant to be enjoyed while surrounded by good food, family, and friends. It is perfectly okay and even expected to indulge at Thanksgiving dinner and enjoy your favorite foods. But you also don't have to let this one day derail your healthy eating.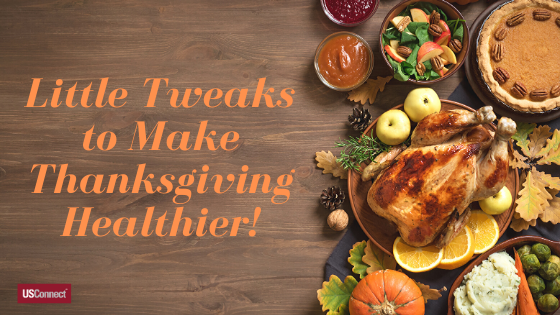 Traditional Thanksgiving foods are actually great for both eating healthy and for satisfying your cravings. Thanksgiving staples such as sweet potatoes, green beans, cranberries, corn, pumpkin, and, of course, turkey are all nutrient-rich dishes—the key is in how they are prepared.
Here are some alternatives for some of your favorite Thanksgiving dishes to make them into healthier options:
Sweet Potato Casserole/Candied Yams
Classic sweet potato casserole or candied yams are often made with lots of butter, sugar, brown sugar, and marshmallows. It's basically less of a side dish and more of a dessert. For a healthier option, you can bake, roast, boil, or mash sweet potatoes and top them with a tiny bit of maple syrup and fall spices like cinnamon, nutmeg, and cloves. Check out the following recipes. 
Stuffing 
While these may be easier, boxed stuffing mixes are usually high in sodium and preservatives. They are also usually made using white bread, so starting with a whole wheat bread base automatically makes it a better option because it contains more fiber and is better for digestion. Using low-sodium chicken broth and fresh spices to round out your stuffing makes a flavorful, healthier version. Here are some other healthy stuffing recipes.
Turkey
As the main event of the Thanksgiving meal, turkey is a lean protein that can be a very healthy choice as long as it's prepared properly. They key is to prepare the turkey without adding too much sodium and extra calories. Try some of these recipes for cooking your turkey.
Cranberry Sauce
Canned cranberry sauce is quick and easy, but it's also chock full of sugar and sodium. Cranberries are a super food, so don't skimp on this side dish. Fresh cranberry sauce is easy to make and can add a colorful and healthful option to your holiday meal. This easy cranberry sauce recipe uses fresh or frozen cranberries and orange or lemon zest.
Pumpkin Pie
Don't skip dessert, especially if it's pumpkin pie that is full of healthy beta-carotene and fiber. Ditch the whipped cream and use more spices and other ingredients to keep the sugar content as low as possible when making your pie. Try one of these healthy pumpkin pie recipes.