Real Smooth, Smoothie
As summer heats up, many people reach for cool, refreshing fruit smoothies thinking they're drinking something as healthy as pure fruit. And in some cases, this is true; some smoothies are, indeed, very good for you. Others, unfortunately, are not as beneficial. Here's our guide to the best and worst options for drinkable fruit.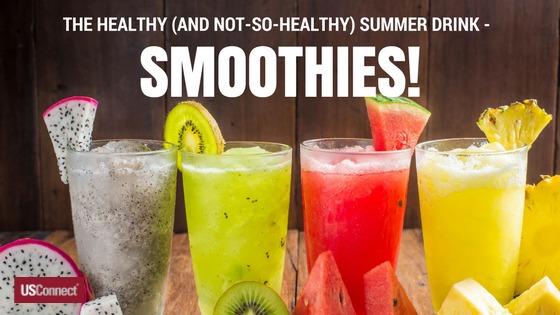 Caveat Emptor (Buyer Beware)
At fast food restaurants and coffee shops across the country, menus offer fruit smoothies as a convenient, healthy alternative to other drink meals. However, a smoothie isn't healthy just by virtue of being a smoothie. Convenient? Yes. Healthy? not so much. Many store- and restaurant-made smoothies actually contain more fat than a Big Mac and more sugar than four Snickers bars.
And the picture is not much prettier at the supermarket, where many choices contain little of the protein, fiber, and vitamins that should make smoothies a healthy option. In fact, Naked Juice, one of the leading supermarket juice and smoothie brands, has been in trouble more than once for falsely claiming the health benefits of its products. In 2013, Naked Juice's parent company, PepsiCo, agreed to pay a $9 million settlement in a class action lawsuit. In 2016, the Center for Science in the Public Interest (CSPI) again sued PepsiCo, alleging that its healthy-sounding drinks like "Kale Blazer" actually contain mainly high-sugar apple juice.
Convenient and Healthy Options
If you're looking for a convenient, healthy way to drink your fruits and veggies, the news is not all bad. Many store-made and bottled juices are as healthy as they claim to be; the key is to always read the label so you know what you're ingesting. A good smoothie should contain a significant amount of vitamins and fiber, and preferably protein to prevent hunger pains from hitting too soon. It should contain minimal sugar and very little fat. Check out some of the healthiest options here and here.
Best Option: Make Your Own
When it comes to smoothies, it's all about the ingredients. You can create your own, mixing and matching fruits, vegetables, proteins, nuts, and seeds:
Acai
Almond milk
Apples
Avocado
Banana, peeled and frozen
Chia seeds
Coconut flakes
Coconut water
Frozen blueberries
Ground cinnamon
Ground flax seeds
Ground ginger root
Ground turmeric
Hemp seeds
Honey
Kale leaves
Nonfat plain Greek yogurt
Peanut butter
Protein powder
Raspberries
Raw cacao powder
Rolled oats
Spinach
Spirulina
Strawberries