Americans are not getting enough sleep. According to the CDC, adults need between seven to eight hours of sleep per night, but most people average only six hours per night or less. Insufficient sleep can do more than make you cranky and groggy  – poor sleep can have lasting effects on your overall health, especially if it becomes a chronic problem.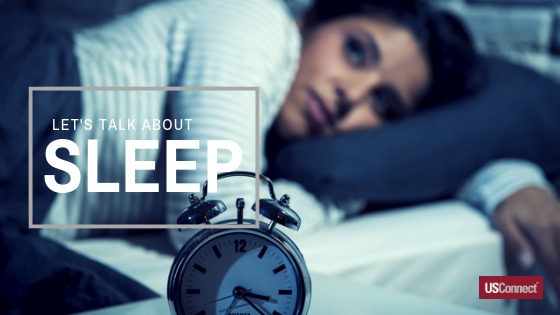 Weight gain
Lack of sleep has been linked to being overweight, especially in women. Without enough sleep, you may be hungrier than usual and have cravings for high-fat, high-carbohydrate foods. Additionally, your body's ability to signal when you are full may also be hindered, which can all lead to unwanted weight gain.
Weakened immune system
Even when you're only moderately sleep-deprived, your immune system will be comprised. You'll be more susceptible to catching colds, the flu and other viruses, and recovery time will take longer.
Poor mental performance
In short, poor sleep will keep your brain from functioning optimally. Concentration, memory, and cognitive function are all affected by sleep deprivation. When you're overly fatigued, you'll have a harder time learning something new and paying attention. This can impact your creativity, decision making, problem solving, and work or school performance.
Heart health
Your risk for developing high blood pressure or worsening high blood pressure if you already have it is increased if you get less than six hours of sleep per night. Over time, lack of sleep can increase your risk for developing heart disease despite other factors such as age, weight, and exercise habits.
Premature aging
If you're regularly skimping on sleep, you're more likely to get premature wrinkles and sagging of your skin, in part because cortisol, the stress hormone that's released when you are sleep deprived, can break down collagen in your skin.
Improve your sleep habits
The good news is, many of the negative effects of sleep deprivation can be reversed or avoided by improving your sleep habits so you get quality sleep. Aim for eight hours per night.
Choose a bedtime and stick to it, even on weekends.
Avoid TV, smartphones, tablets, or computer screens before bed. These can be stimulating and affect your ability to fall asleep and stay asleep.
Don't eat or drink late at night, especially avoid caffeinated beverages past 6 p.m. Water is OK.
Create a bedtime routine, such as brushing your teeth, showering or taking a warm bath, and listening to soft music or reading a book.
Make sure your room is dark except for a very soft nightlight if needed. This means TVs, smartphones, and other devices are turned off completely.