We've all heard about the importance of food hygiene, as well as personal hygiene, dental hygiene, and even workplace hygiene. But sleep hygiene? What does sleep have to do with keeping things clean and healthy? It turns out that sleep hygiene is related to health: to the healthy practices that lead to a good night's sleep. The National Sleep Foundation defines sleep hygiene as "a variety of different practices and habits that are necessary to have good nighttime sleep quality and full daytime alertness."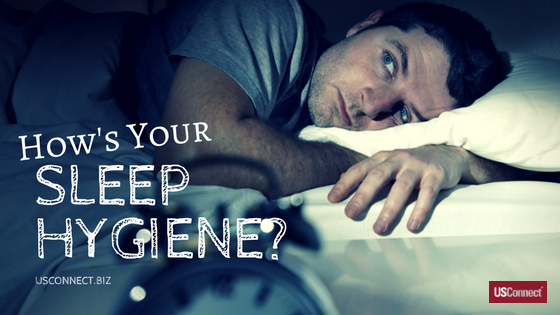 According to the Centers for Disease Control (CDC), over 35 percent of adults in the United States suffer from "short sleep duration," that is, fewer than seven hours of sleep per night. Further CDC reports show that short sleep duration "impairs [the] ability to perform daily tasks," and that "Chronic sleep deprivation also has a cumulative effect on mental and physical well-being and can exacerbate chronic diseases." Are you among the over one-third of Americans who do not get enough sleep? Read on to learn how the experts suggest you improve your sleep hygiene for a better night's rest.
According to Harvard Medical School and others here and here, there are many concrete steps you can take to improve your sleep hygiene:
Reduce caffeine, nicotine, and alcohol.  Alcohol may seem to make you sleepy, but it actually decreases your sleep quality.
Create a sleep-friendly environment. You can do this by limiting light, noise, and the chance of interruptions. Keep TVs, computers, and work out of the bedroom to keep it a place for sleep. If you must have a phone or tablet, make sure it has a blue light filter or night mode, as studies have shown that the blue light from screens can disrupt the body's natural sleep cycle.
Create a pre-sleep routine to prepare your body for sleep. If you have insomnia or have difficulty falling asleep, try these methods from the National Institutes of Health.
Try to sleep only when you're ready to sleep. If you're lying in bed for over 20 minutes, get out of bed and read a book or do something relaxing before trying again to get back to sleep.
Connect your body to the sun's rising and setting to achieve a more natural rhythm.
Keep a consistent sleep schedule. Try to get up and go to sleep at the same time every day, even on weekends.
Avoid naps, or take them as early as possible during the day.
Eat and drink earlier, reducing intake before bed.
Exercise earlier,too, to keep your body physiology read for sleep.
Be consistent with all of these before writing them off. If your sleep hygiene is impeccable, but you're still having trouble sleeping, talk to your doctor about possible medical conditions that may be affecting your sleep.