Do you or your colleagues need a boost to get moving this spring? The President's Council on Fitness, Sports, and Nutrition has you covered! Operating with the Twitter hashtag #moveinmay, the President's Council is promoting May as National Physical Fitness and Sports Month, complete with a playbook on how to get moving and stay active.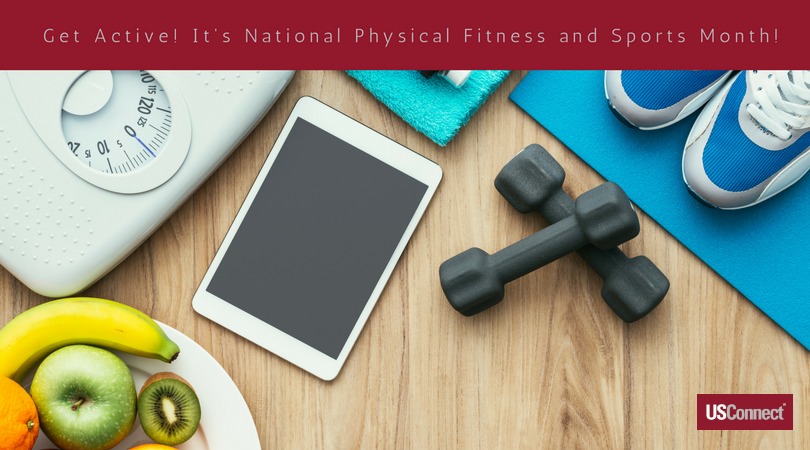 National Physical Fitness and Sports Month in May is not a new event; it has actually been observed since 1983, when President Reagan urged "individuals and families to use this occasion to renew their commitments to make regular physical activity an integral part of their lives." In 2017, National Physical Fitness and Sports Month is still going strong with a slew of programs and activities to encourage healthy, active lifestyles.
In the last three decades, technology has changed our lives, both for better and for worse. On the one hand (literally), the accessibility of technology has given many Americans a screen addiction, making us virtual slaves to virtual reality. However, technology has also positively transformed some aspects of physical fitness, especially in the area of tracking and recording, as well as accessing helpful information and interactive guidance.
In addition to the many commercial activity trackers and tracking apps available, the U.S. Department of Agriculture (USDA) has created the Presidential Active Lifestyle Award (PALA+), an eight-week program to help people get a jump-start on their fitness goals. With a focus on healthy eating and activity levels, PALA+ lets participants keep track of their progress toward their targets. For adults, the physical activity goal involves having 150 active minutes and five active days per week. Nutrition goals include these :
Vegetables: Log at least 3 vegetables per week.
Fruit: Log at least 3 whole fruits per week.
Grains: Log at least 3 whole grain foods per week.
Dairy: Log at least 3 low-fat or fat-free dairy items per week.
Protein Foods: Log at least 3 lean protein foods or seafood items per week.
Those who complete the PALA+ challenge can download an award certificate from Fitness.gov. This ready-made challenge is a great way to bring colleagues together to work toward a healthier lifestyle, so they can get out there and #moveinmay!