Easing Lower Back Pain Through Exercise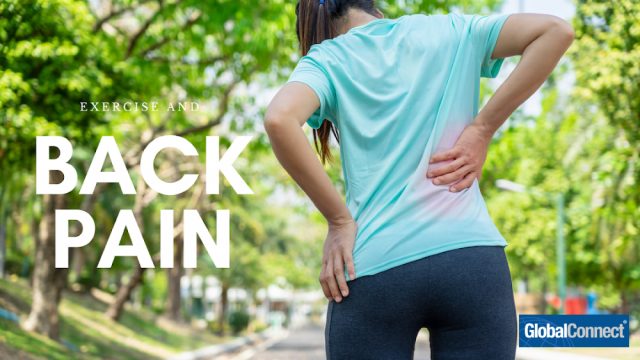 If you suffer from lower back pain, you are not alone. According to the National Institute of Neurological Disorders and Stroke (NINDS), nearly 80 percent of Americans will experience some level of lower back pain at some time in their lives. It is the most common reason for doctor visits and for job-related disability. Lower back pain is usually caused by injury, although some back pain can be caused by certain diseases such as arthritis, a ruptured or herniated disc, or more rarely, cancer.

Lower back pain can be either acute, meaning it lasts a few days to weeks, or chronic, lasting longer than three months. It's important to see a doctor for any new back pain to rule out underlying disease. If your lower back pain is the result of an injury, the best way to keep your symptoms under control is by staying active. Regular exercise can help the muscles in your back relax and can increase blood flow to the area.
When exercising after a mild back injury or with chronic back pain, there are some important things to keep in mind so you don't make your symptoms worse.
Get out of bed.
When your back hurts, it's tempting to just lie in bed and watch television. While resting for a day or two is fine, any longer will make your pain worse, according to the National Institutes of Health (NIH). The sooner you get up and moving, the quicker you will feel some relief. Start slowly, with simple activities such as a 10-15 minute walk two times a day.
Stretch the right way.
Performing the right types of stretches and doing them correctly can really help calm lower back spasms. Do the exercises recommended here two times per day to help relieve back pain and strengthen back muscles. Click here to find eight back stretches.
Don't push through the pain.
If certain exercises are making your back pain worse, stop doing them. Pushing into a painful position can damage tissue further and make back pain worse.
Check your posture.
Regularly slumping or slouching, especially while sitting for long periods of time, such as at an office desk, is a common reason for lower back pain. Focus on sitting and standing up straight, and make sure your desk chair is ergonomically built to support your back while working. Also, wearing high heels can exacerbate the problem as can being overweight or obese.
Avoid high-impact activities.
Running, high-impact aerobics, basketball, and other activities that place a lot of stress on your joints can make back pain worse. Avoid these types of activities until your pain gets better. Instead, focus on lower impact exercises such as walking or riding the stationary bike or elliptical machine. Swimming and aquatic exercise are also especially helpful when dealing with lower back pain.
Be careful with weight lifting.
When you're experiencing back pain, avoid doing overhead weight moves such as shoulder presses and weighted squats. These types of weight movements can add pressure to your spinal discs and cause back pain to worsen.
Once you make these changes to your exercise routine, your lower back pain should start to improve significantly. If it does not, you should consult your doctor.