Lighten Up!
Traditionally, people have thought of Thanksgiving as a chance to overeat: to stuff ourselves as full as the turkey we just consumed.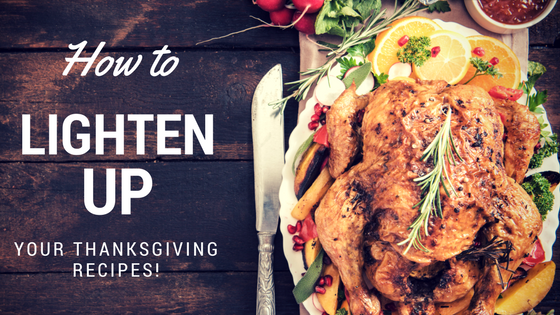 While Thanksgiving can still remain a time to share some favorite foods around the table with family, it doesn't have to be a complete disaster to the diet. Some simple adaptations to common recipes can minimize the damage; maybe you can even stay awake long enough to watch the game!
Adaptation #1: Mashed Potatoes
For a lot of people, Thanksgiving starts and ends with mashed potatoes. Rich, creamy, and satisfying, they're the perfect vehicle for gravy and the perfect food to set the foundation for our postprandial food coma. Traditional mashed potatoes can come in at 250 calories and nine grams of fat per serving, so it's a good place to do a makeover. Make them healthier by substituting a higher fiber vegetable for some of the potatoes: cauliflower, parsnips, and turnips are good choices. Replace heavy cream and butter with low-fat milk and light sour cream or nonfat Greek yogurt. To replace the lost flavor, try add-ins like roasted garlic, caramelized onions, or a little grated cheese.
Adaptation #2: Sweet Potato Casserole
Your grandmother's sweet potato casserole recipe probably calls for canned yams in syrup, pats of butter, and a topping of marshmallows. While this gooey treat may have the joy of nostalgia, it's a truckload of sugar (almost 40 grams!) before you even get to dessert. Lighten it up by enjoying the natural sweetness of the yams by roasting them in the oven. Toss cubed sweet potatoes in coconut oil and sprinkle with spices like cinnamon, nutmeg, and ground cloves. Spread them on a baking sheet and roast at 350 degrees for about 60 minutes, until the cubes are soft and form a crisp, caramelized crust.
Adaptation #3: Green Bean Casserole
Think: with all the rich food on Thanksgiving, do you really need your green vegetable to be doused with a can of creamy condensed soup? This yummy Thanksgiving staple, which as a green vegetable dish should be one of the healthier ones at the table, actually clocks in at over 275 calories, 21 grams of fat, and a whopping 10 grams of saturated fat. If tradition dictates that you must have a green bean casserole at the table, check out these five tips on making it healthier (hint: start by ditching the canned soup). Even better, keep your green beans healthy by simplifying this dish: sauté fresh or flash-frozen green beans with a little minced shallot and olive oil, or pan-roast them with garlic. The touch of bright freshness will serve as a great counterpoint to the rest of the rich, heavy dinner.
Happy Thanksgiving from all of us at USConnect!