This October, for Breast Cancer Awareness Month, we're focusing on prevention. And one of the best ways to lower your risk of developing breast cancer is regular exercise. In fact, multiple studies have shown that exercise is the No. 1 lifestyle change you can make to reduce your breast cancer risk, and also to reduce your chances of recurrence if you've already been diagnosed.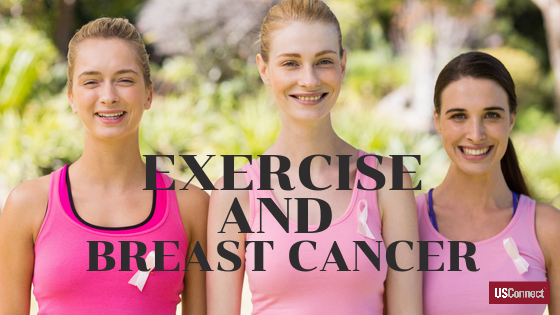 According to the Maurer Foundation, exercise can help reduce your breast cancer risk in several ways:
It helps you maintain a healthy weight. When you are at a healthy weight for your body, you naturally have less fat. This is important because fat cells store high levels of estrogen, and higher estrogen levels have been shown to increase breast cancer risk.
It can reduce the amount of estrogen in your body.  A study found that postmenopausal women who regularly exercised for a year had lower levels of estradiol, a type of estrogen, compared to women who didn't exercise. Lower levels of estradiol in the body can reduce breast cancer risk.
It boosts your immune system.  Along with a healthy diet, regular exercise can strengthen your immune system and help your body to better fight off infections and diseases as well as helping to kill or slow the growth of cancer cells.
It helps with stress relief and mood. People who are active report better moods and less anxiety and depression. Regular exercise can help you better manage the stress in your life, which is important in lowering your risk, as too much stress has been shown to speed up cancer's progression.
How Much Is Enough?
Finding the time to exercise can be a challenge, but you don't need to work out for hours every day to reap the benefits and lower your breast cancer risk. Even 30 minutes of moderate activity a day, such as walking, cycling, or gardening  has been shown to significantly reduce your risk, according to one study.  A  Women's Health Initiative study concluded that just 1.25 to 2.5 hours per week of brisk walking has been shown to reduce your breast cancer risk by 18 percent. If you increase your walking program to 10 hours or more per week, you can lower your breast cancer risk even more.
For those who prefer higher-intensity workouts, the recommendations are 75 minutes of vigorous-intensity activity spaced out across the week. Activities such as running, high-impact aerobics, swimming, or sports such as soccer or basketball are some examples of higher-intensity exercise.
Preventing Cancer Recurrence
If you've already had a breast cancer diagnosis and have undergone treatment, exercise can also be extremely beneficial in preventing the cancer from returning.  A 2017 study on lifestyle choices and their impact on the chances of cancer recurring in women who've previously had breast cancer found that of all the lifestyle factors reviewed, physical activity and avoiding weight gain seem to have the most beneficial effect on the odds of breast cancer recurrence.
According to the study, women who are overweight or obese seem to have the lowest chances of survival after a breast cancer diagnosis. Conversely, women who incorporated at least 30 minutes of exercise five days per week (or 75 minutes per week of higher-intensity exercise) significantly reduced their risk of breast cancer returning and of death from breast cancer.
In addition to reducing your risk of breast cancer recurrence, exercise can improve mood, improve body image, increase energy, maintain bone health, reduce fatigue, reduce anxiety and stress, improve physical condition, and improve overall quality of life in breast cancer survivors. Researchers did note that some forms of breast cancer are more aggressive and may recur despite lifestyle changes.