October is Breast Cancer Awareness Month, so let's talk about prevention!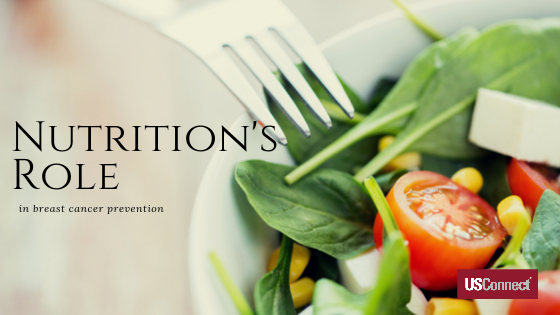 While there is no fool-proof way to prevent breast cancer, nutrition can play a role in lowering your risk and improving your overall health.
Maintain a Healthy Weight Through Good Nutrition.
Maintaining a healthy weight is one of the best ways to reduce your breast cancer risk as well as your risks for other diseases.  According to the Susan G. Komen Foundation, women who are overweight or obese after menopause have a 30-60 percent higher breast cancer risk than those who are lean.
Extra weight can increase estrogen in your body, and excess estrogen can make hormone-receptor-positive breast cancers develop and grow. Being overweight also can increase the risk of breast cancer recurrence in women who have had the disease.  Additionally, the location of where you carry extra weight also matters. Women who tend to carry extra weight in their midsection may be at a higher risk than women who carry their extra weight around their hips or thighs.
Eat More Veggies, Less Meat.
A diet rich in fruits and vegetables provides essential antioxidants, fiber, and other nutrients that have been shown to reduce cancer risks.  Antioxidants help protect your cells from free radicals—highly-reactive and unstable molecules that have the potential to harm cells. Examples of dietary antioxidants include beta-carotene, lycopene, and vitamins A, C, and E—all of which can be found in fruits, vegetables, and whole grains.
A diet high in fiber has also been found to lower cancer risk. And once again, the best sources for this nutrient are unprocessed, plant-based foods. In turn, a high-fiber diet may help you lower your overall caloric intake and help you maintain a healthy weight, which, as mentioned above, is crucial in reducing your overall breast cancer risk.
Superfoods!
While no specific food can prevent breast cancer, there are some foods that contain more antioxidants and other anti-cancer properties such as fiber, carotenoids, and omega-3 fatty acids. You should make them a regular part of your diet to help lower your breast cancer risk.
The following are some great examples of  superfoods:
Green Tea
Berries, such as strawberries, blueberries, raspberries
Plums, peaches, avocados
Cruciferous vegetables (broccoli, cauliflower, brussels sprouts, kale, and cabbage)
Dark, leafy green vegetables (spinach, kale, collards, etc.)
Vegetables rich in carotenoids (carrots, tomatoes, sweet potatoes, apricots, etc.)
Foods with omega-3 fatty acids (salmon, sardines, herring, cold liver oil, walnuts, flaxseed, chia seed, and nut oils)
Beans and lentils
Whole grains (brown rice, oatmeal, corn, barley, etc.)
Breast cancer is a complex disease, and diet is only one part of the picture. Other factors like genetics, exercise, and lifestyle choices also play a role in your breast cancer risk. Discuss your individual risks with your doctor and work with him or her in developing a personalized plan to lower your risk.