Schedules tend to get hectic this time of year with the kids back in school and busy with extracurricular activities. With everyone running in different directions, it's easy to forgo family dinners and just run by the drive-thru. While that's OK when you're really in a pinch for time, you don't want to make it a regular habit.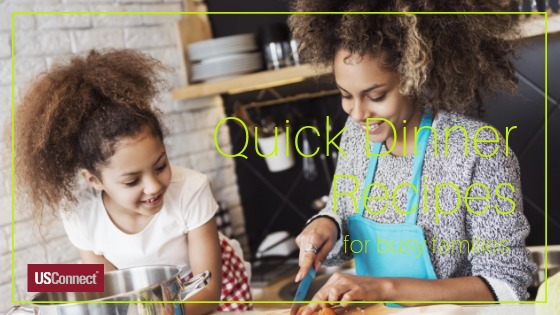 Here are five healthy dinner recipes for stress-free meal planning for families on-the-go. Each recipe takes only 30 minutes or less to make, so you'll still have plenty of time to help kids with homework, cart them to and from sports, piano or dance lessons, and maybe even do a load of laundry.
BBQ Chicken Crescent Roll-Ups and Garlic Green Beans
An easy meal for busy weeknights that kids and grown-ups will both love. Unroll-and-bake crescent rolls are stuffed with shredded barbecue chicken, Swiss cheese, and a tasty cream cheese blend. Dress up frozen green beans for a healthy side dish and you're done. These also make great game-day snacks!
https://www.sugardishme.com/bbq-chicken-crescent-roll-ups/
Chicken & Cheese Tortilla Pie
A dish made with store-bought, ready-to-eat rotisserie chicken combined with cheese and other ingredients to make a hearty Mexican dish. You can substitute tomatoes for olives or add black beans for some fiber, or modify the recipe based on your family's preferences. It can be easily created in minutes!
https://www.tasteofhome.com/recipes/chicken—cheese-tortilla-pie/
Tuna Carbonara
Made with ingredients you probably already have in your kitchen, this tuna recipe can be made in about 20 minutes. This is a great option when you're really pressed for time because you can easily substitute ingredients based on what you already have on hand. The only things you'll really need are some sort of pasta, tuna, bacon, eggs, cream, and Parmesan or Romano cheese.
https://www.thespruceeats.com/tuna-carbonara-482016
Three-Bean Chili
For those upcoming cold or rainy nights, this three-bean chili packs just enough spice to warm you up. Plus, it's easy to make and serves six, so if you have a smaller family, it's great for leftovers for lunch.
https://www.familycircle.com/recipe/spicy-3-bean-chili/
Beefy Macaroni and Cheese
Kids love mac and cheese, and this version adds beef for added flavor and protein. Serve with a side vegetable for a complete meal of comfort food for any busy weeknight.