Commit to a short daily fitness routine to help you stay healthier this holiday season.
Between Thanksgiving and New Year's Eve, an endless succession of family dinners, office parties, and edible gifts can derail even the healthiest eaters. Combined with the colder weather, 'tis the season to pack on the pounds like a Christmas goose.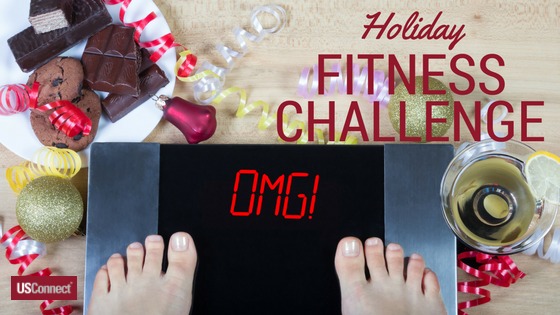 To counteract the seasonal splurges, why not try an office exercise challenge? For yourself or for a group of colleagues, these workplace exercises can be a fun way to keep fit.
Day One: Stairs
Once an hour, run up and down a flight of stairs at least once. Advanced/ambitious team members can do several flights each hour.
Day Two: Desk Pushups
Every two hours, stand up and place hands on desk, about shoulder-distance apart. With your arms straight, walk your feet backwards until your body is at a 45-degree angle to the floor. Keeping your body straight, do 10 pushups.
Day Three: Superman/Banana
For core strength, you have to hit the floor, so you may want to bring a towel. First, lie face-down on the floor, with your arms above your head, pointing straight in front of you. Then lift your arms and legs a few inches off the floor; you're Superman! Hold for 30 seconds, then rest. Flip onto your back, with your arms extended over your head. Carefully, making sure your lower back doesn't arch; lift your arms and legs so that your body forms a wide V. You're a banana! Hold for 30 seconds, then rest. Do three times during the day, and try to lengthen the time you hold each pose.
Day Four: Walking Challenge
This one works best if you're doing a fitness challenge with a group. Once an hour, write a note—an encouraging quote, or a joke, or a bit of good-natured gossip—to a colleague. Walk to that person's office in the most roundabout way possible.
Day Five: Wall Sits
Standing around waiting for the coffee to brew? Sit instead… against the wall. Wall sits work your legs and core, and they're harder than they look. Stand straight, with your back against the wall. Slowly slide your back down the wall, bending your knees until they are at a 90-degree angle. Now hold it for as long as you can. For fun, get other colleagues to join you, and see who can hold it the longest. Get someone to take a picture; there's your company photo! The company that stays fit together stays together!