You've been pushing yourself in your weekly workouts, trying to reach your personal goals whether it's to increase fitness or build muscle. Most likely, you've been careful about what you eat before you exercise, but what you eat after a vigorous workout is just as important. The right nutrition can replenish energy stores, build and repair muscle that was broken down during a workout, and help keep your metabolism strong.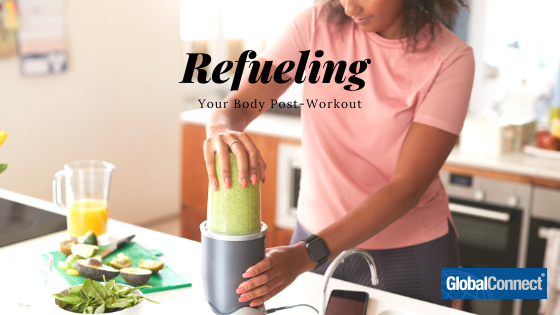 When refueling after a workout, the sooner the better. Research shows that if you wait to eat for two hours after your workout, it decreases your body's ability to refill muscle stores by 50 percent compared to eating right away after exercising. It's best to eat or drink something that combines protein and carbohydrates 30 minutes to one hour after exercising.
Studies have shown that consuming carbohydrates immediately after exercise is an excellent strategy to maximize rates of muscle glycogen synthesis, which means restoring energy to muscle cells. Similarly, eating additional protein within an hour after a workout is also shown to improve muscle glycogen stores. Drinking plenty of water, or sometimes a sports recovery drink after very strenuous workouts, is also necessary for rehydration.
Post-workout meals don't have to be complicated nor do they require special supplements or expensive shakes. It just takes a little planning and preparation so you have a meal ready to go after your workout. For example, if you work out at a gym, you may want to pack a pre-made meal to take along with you, such as a peanut-butter-and-jelly sandwich.
These examples of post-workout foods combine the necessary carbohydrates and protein and are quick and easy to make:
Grilled chicken (4 oz.) and brown rice (½ cup)
Egg scramble made with eggs and vegetables such as sweet potatoes or avocado
Peanut-butter-and-jelly sandwich made on whole grain bread with all-fruit preserves
Whole grain wrap with lean meat, beans, avocado, or cheese
Whole wheat toast with 3 oz. of tuna and 2 oz. of hummus and spinach
Protein shake made with half a banana, one scoop of protein powder, and almond milk
Chocolate milk (1 cup)