Liven Up Your Lunch
Are you stuck in a lunch rut? Do you tend to eat the same lunch day after day or rotate between just a few types of meals? Whether you are currently working in an office and regularly bring your lunch from home or currently working from home, coming up with healthy and easy lunch ideas can sometimes be challenging, especially if you're pressed for time. Nutritious and delicious lunches that are easy to make are possible. It just takes a little preplanning and creativity.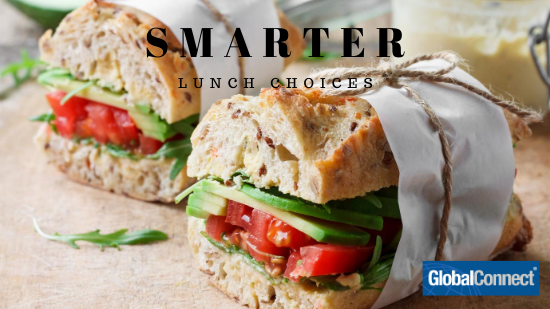 Sandwiches and soups are go-to lunch choices, especially if you're taking your lunch from home to the office, and they are quick and easy to make. Liven up your lunch routine with some of these healthy and satisfying recipes.
Sandwiches
Sandwiches are a classic lunchtime staple. They're easy, quick, and filling. But there are only so many ham and cheese sandwiches that you can eat! Up your sandwich-making game with these nutritious alternatives:
Cranberry-Walnut Chicken Salad Sandwich
This variation of plain chicken salad uses rotisserie chicken combined with tangy cranberries, walnuts, and celery on pumpernickel bread.
Prosciutto, Arugula, and Tomato Sandwich
An Italian version of the BLT uses prosciutto in place of bacon and vitamin-packed arugula instead of boring iceberg lettuce. Top with a juicy tomato and serve it on ciabatta bread.
Peanut Butter, Strawberry, and Honey Sandwich
A twist on the classic PB&J, this sandwich uses fresh strawberries in place of jelly with a sprinkle of honey and hint of mint. Serve it on 100 percent whole wheat bread for a complete healthy meal.
Roast Beef Sandwich
Make your own version of a deli favorite with roast beef, pickles, cucumbers, and mayo on a Kaiser roll.
Soup
Soup is also an easy lunchtime choice. You can buy premade soups, but there are many healthy soups that can be made at home and taken to work in a plastic container to heat up in your office microwave. As we head into fall and the weather begins to cool,  soups can be appealing as a lunch option. Be prepared by experimenting with some of these nutritious and hearty soup recipes:
Chickpea and Potato Soup
A protein-packed soup with potatoes, spinach, and freshly grated Parmigiano-Reggiano cheese.
Pasta Fagioli Soup
A combination of fresh spinach, sausage, beans, and pasta make a filling meal. 

Italian Vegetable Beef Soup
A variation on the classic comfort food, this veggie soup features beef, tomatoes, and Italian seasoning. You can add in any vegetables you choose, either fresh or frozen. 

South-of-the-Border Chicken Soup
This thick, hearty chicken soup mixes mashed and diced potatoes, seasoned with fresh lime juice, and topped with avocado.
Broccoli-Chicken Parmesan Soup
This healthy soup can be made with chicken for a protein-rich meal or made vegetarian-friendly by leaving out the chicken, using veggie broth, and adding more spinach.