The importance of Breakfast Nutrition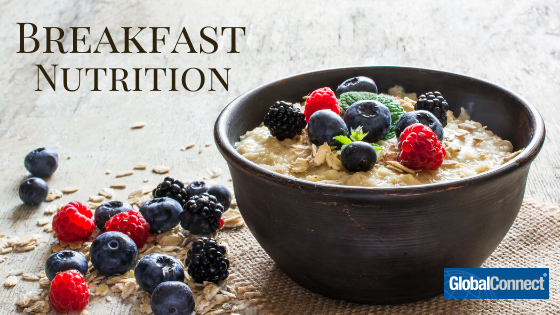 You've probably heard the mantra – breakfast is the most important meal of the day! But what exactly does that mean? What are the healthiest foods to eat for breakfast?
Eating a healthy breakfast is the best way to start your day. A good breakfast will help you think and perform better at your job or at school and can help you maintain a healthy weight and promote heart health.
Don't Skip!
Many people skip breakfast, either because they aren't hungry in the morning, feel like they're too pressed for time, or as a way to lose weight. But studies show that breakfast skippers are not only sabotaging weight loss attempts, but they may also be impacting their body's ability to control blood sugar as well as affecting their quality of sleep.
What's for breakfast?
Getting into the habit of eating breakfast is important, but equally important is what you eat for breakfast. Grabbing a protein bar or shake is better than nothing, but highly processed foods like these are not the best choices for your first meal of the day. Eating a balanced breakfast that's packed full of protein and nutrients will give you the most health benefits.
When planning your meals, focus on pairing carbohydrates with proteins for breakfast. Carbohydrates will fuel your brain and supply your body with the energy it needs to begin the day. Protein will help you feel full and satisfied until lunchtime.
A breakfast that's high in protein has also been shown to support weight loss by increasing muscle mass, helping regulate blood sugar, helping you feel full longer, and curbing the urge to snack at night. Aim for 20-30 grams of protein at breakfast; this can be accomplished with an 8 oz. cup of Greek yogurt or one egg with a couple of turkey sausage links, for example.
Protein-packed breakfast ideas
Skip the donuts and danishes, and try some of these ideas for a healthier breakfast that pairs the right amount of proteins and carbs.
Greek yogurt with berries and almonds
Steel-cut oatmeal with berries and 6 oz. Greek yogurt
Avocado toast with egg
Whole wheat toast with 1 tbsp. of nut butter and sliced banana
Berry and yogurt smoothie
Peanut butter and banana smoothie
Whole wheat English muffin with egg and low-fat cheese
Sausage and egg casserole with a side of fresh fruit
Whole-grain cereal with low-fat milk and topped with berries and almonds
Egg scramble with turkey sausage, low-fat cheese, and veggies with a side of berries