Here are some fantastic options for shaking up your salad routine!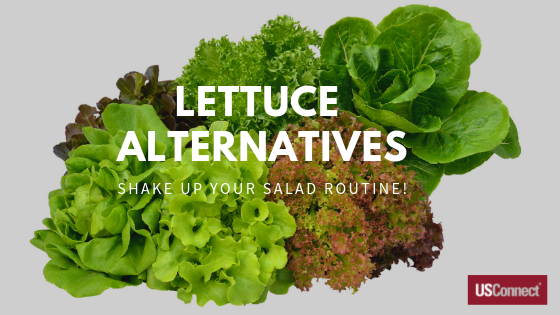 Everyone is familiar with the good old salad standby: iceberg lettuce. But if you've walked into any major produce department lately, you'll notice an enticing assortment of leafy varieties that may be unfamiliar. These can offer great options for spicing up your salads with something a little more exotic and healthy. Here are some of the options you'll likely encounter:
Arugula
Arugula, the funny-sounding name that reminds one of the horns on old cars, has a distinctive peppery flavor that really brings an exciting zip to your salads. The texture is different from iceberg lettuce, as the leaves of this plant are skinny rather than broad, with a softly undulating border and a smooth surface. This leafy treat weighs in high in vitamins K and A and is a good source of fiber and protein.
Kale
This curly-leafed green has grown wildly in popularity in the past few years and is now finding a place in everything from salads to oven baked-chips and smoothies! While it may seem like a new and passing fad, this vegetable was grown by the ancient Romans.
Kale has a somewhat bitter flavor, and the texture can be rather tough. If you find either to be an issue, you can tear it into smaller pieces in your salad, so as not to have the flavor overwhelm the other ingredients. And give it a good massage with an oil-based dressing to soften the texture.
Kale is one of the most nutritious options for salads with 1,021% of the recommended daily value of vitamin K, 308% of the RDV for vitamin A, and 200% of the RDV for vitamin C. With its incredible vitamin potency, it is no surprise that kale has become a hero among the health-conscious.
Spinach
This leafy green became famous after Popeye the Sailor Man gulped it down in his daily cartoon and suddenly burst out with muscles—doing impossible stunts with his superhuman strength—attributable to the magical can of spinach. While this vegetable is certainly healthy, it probably won't turn you into a muscle-bound superhero in one sitting. It does taste fabulous raw, with a slightly astringent, earthy flavor and is a great complement to any salad. With a huge amount of vitamin K and vitamin A, it beats arugula for nutritional value. It's also a good source of fiber and protein. While it can't compare with kale for these vitamins, its dark green leaves boast more folate than kale, making it a definite health bonus for any salad.
Swiss Chard
Boasting even more vitamin K than kale, this superfood could be next on the list of fashionable health foods. Swiss chard, slightly bitter to the taste, contains 1,038% of the RDV of vitamin K, with 122% of the RDV of vitamin A. Chard is also an excellent way to work vitamin C, iron, magnesium, and manganese into your diet and is reputed to have a slightly milder flavor than kale. Another bonus to adding this leaf to your salad is its highly interesting coloration: dark green leaves and a vividly red stem and veins. It adds a very colorful appeal.
Radicchio
Another ancient companion to your salad, radicchio was mentioned by Pliny the Elder in his 79 A.D encyclopedic Naturalis Historia, commenting that this velvety red-leafed plant was good for insomnia and blood purification in addition to boasting a nice taste. He notes that it was Egyptians who bred this variety from the chicory plant.
Radicchio has a bold flavor, somewhat spicy, and is also pleasingly colorful with its purplish red leaves accented by white stem and veins. It resembles red cabbage but has quite a different flavor. A tasty addition to your salad!
Watercress
Once a staple in the diet of Roman soldiers and used medicinally by Hippocrates (the father of medicine),  it should be no surprise that watercress is bursting with nutritional goodness. Unfortunately, over time, the plant became known as the food of the poor and was less fashionable in comparison to the new varieties of salads that were cultivated over the next 100 years.
This ancient green is a member of the cruciferous family of vegetables such as broccoli, arugula, kale, and Brussels sprouts. It is high in vitamins K, C, and A. With a tender texture but a slightly peppery taste, this dynamic green is a wonderful addition to your leafy repertoire.
The Lettuces
Whether you prefer iceberg, leaf, Boston, or romaine lettuce, most have a similar mild flavor. The four most common categories are looseleaf, crisphead, romaine, and butterhead. The iceberg lettuce we are so familiar with is a great example of crisphead, with a round head of tightly packed leaves. The butterhead variety is also mostly rounded, but with the leaves being more loose and smooth (usually found in the grocery store in plastic clamshell cases).
While romaine lettuce has rather long leaves and a robust spine, the looseleaf varieties grow as rosettes, with loosely gathered leaves—easily harvested one leaf at a time rather than by the entire plant.
The mild flavors of all the lettuces make them an ideal base upon which to add the spicy, bitter, and peppery varieties of leafy greens listed above.
Whatever exotic varieties of greens you choose to add to your salads this year, don't be afraid to try something new! Variety is the spice of life, and this is especially true with greens.