Many things happen during the summer months that break or interfere with our usual routines: vacations, trips, weddings in different cities or locations, visiting relatives and friends, and unexpected events that require us to leave home. These things may be a welcome change, but all too often, they are used as an excuse to stop the diet and/or exercise routine we have so faithfully been following.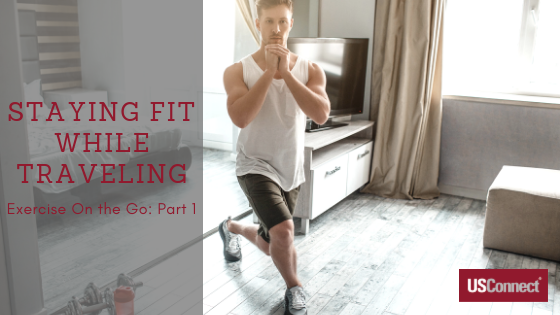 No Excuses 
Skip the excuses and admit that you can exercise and keep up your level of fitness with little or no equipment other than your own body. Some of the most effective workout exercises can be done using only your own body weight. You just need to choose exercises that use as many muscle groups at once as possible and expend the greatest amount of energy (rather than exercising one muscle at a time) as this takes less time overall and achieves maximum results. Some of those exercises are listed below, and they can be done in a hotel room or just about anywhere within a small amount of space:
Have just six minutes to get in your on-the-go exercise? Here is a six-minute, high intensity interval training(HIIT), full-body workout that seems guaranteed to keep your fitness level up.
As long as you have your cell phone with you, you have an unlimited source of free apps and YouTube exercise videos to choose from.
Plan Ahead
Prior to traveling to your destination, whether on business or for pleasure, check out scenic attractions in the area and see if there are walking tours that will take you by these attractions, or use a map to plan your own walking tour. It won't feel like exercise because you are exploring a new location. Some cities have bike-share programs, so you could rent a bike for an hour or so and exercise while you explore a park or other scenic part of town.
Stay tuned for the second part of this article where we'll talk about which airports have gyms in them and a few of our favorite fitness vacations!