Breast Cancer Awareness Month, with it's pink-washed campaigns and numerous pink products, is mainly associated with women, but men can get breast cancer too. While rare, men do develop breast cancer, and the topic is often taboo and rarely discussed. This lack of awareness often means men who develop symptoms may not recognize them or associate them with breast cancer, and they may be diagnosed at a later stage when the cancer is not as treatable.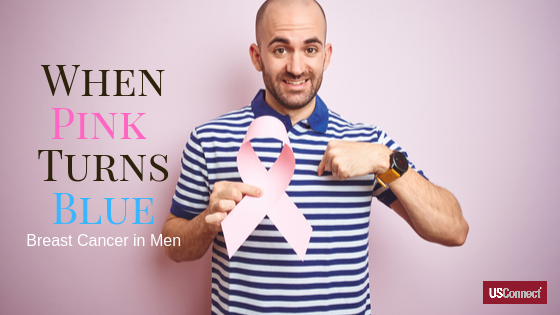 According to the National Breast Cancer Foundation, Inc., men are born with some breast cells and tissue. And although men don't develop milk-producing breasts, a man's breast cells and tissue can still develop cancer. It is much less common, with less than one percent of all breast cancer cases in males, and only one in 1,000 men will ever be diagnosed with breast cancer in his lifetime.
Because breast cancer awareness for males is less, and many men who do develop symptoms delay seeking treatment, men carry a higher mortality rate from breast cancer than women. Unlike women who are recommended to get annual mammograms and do regular self-breast exams, men aren't routinely screened for breast cancer, so when it is detected, it's usually at a much more advanced stage. Essentially, most men just don't think they can get it.
Risk Factors in Men
There are certain risk factors that may make a man more likely to develop breast cancer:
Older age. Just as in women, risk increases as a man ages. The average age of men who are diagnosed with breast cancer is 68.
High estrogen levels. Both normal and abnormal breast cell growth is stimulated by estrogen. Men can have higher levels of the hormone due to a variety of reasons such as medications, being overweight or obese, environmental exposure to estrogen (i.e. pesticides like DDT), high alcohol consumption, and having liver disease.
Family history or genetic mutations. Just as the case with women, if there's a family history of other men in the family having breast cancer, risks are greater. Also, if men carry the breast cancer genes BRCA1 or BRCA2, they are at an increased risk.
Radiation exposure. Men who have been treated for other cancers with radiation, especially to the chest, have a higher risk of developing breast cancer.
Symptoms in Men
Symptoms of breast cancer in men can be similar to those for women, but men may not associate these changes with cancer. This causes a delay in diagnosis. It's important that men recognize that any changes to their breasts should always be checked by their physicians.
Breast Cancer Symptoms in Men Include the following:
a hard lump in the breast that can be felt
nipple pain
an inverted nipple
clear or bloody nipple discharge
sores on the nipple and areola
enlarged lymph nodes under the arm
With early diagnosis, treatment for breast cancer in men can be very successful. More awareness of breast cancer in men is needed so that men recognize any potential symptoms earlier and seek treatment when cancer is at a much more treatable stage.