Beginning with the nationwide lockdowns due to the Covid-19 pandemic, more people have found themselves working from home and will likely be doing so for the foreseeable future. And with many schools around the country announcing plans to begin the school year with online learning, more families will find themselves still stuck at home this fall.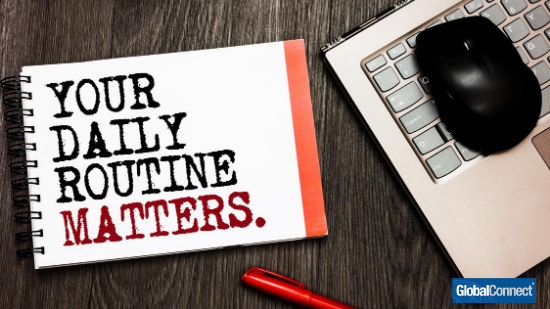 All of the disruptions the pandemic has caused have drastically changed many people's daily routines, which can make it even more difficult to deal with the extreme stress and anxiety this crisis has created. Hours and days start to blend together, and before you know it, all you've accomplished is binging a full season of your favorite show on Netflix or scrolling through social media on your phone.
While binge-watching is a great stress reliever, you don't want to fill all of your days being a couch potato. Maintaining a regular daily routine can help you feel more in control during this time when all other aspects of our world feel so uncertain.
Benefits of structure and routine
Sticking to a daily routine can have great benefits for mental health. Not only can routines help you better manage stress and anxiety, but they can also lower stress levels and have a calming effect, help you maintain good daily habits, encourage you to take care of your health, and help you feel more focused and productive. Having a daily routine allows you to complete necessary tasks, such as work or home duties so that you can then find time for exercise and other leisure activities. A routine can help to make your situation feel more predictable and controllable.
Creating a routine
Your daily routine may look very different right now if you're working from home or temporarily unemployed, or if you have children at home. Create a routine that adds structure and a sense of predictability to your day. Your routine might vary on different days, but sticking to a basic schedule of when you sleep, wake up, eat, work, exercise, and do other activities will help you manage stress and feel that you have accomplished more day to day.

An easy way to create a schedule is to make a list of all the things you must get done during the day. Write down everything from work to household chores to childcare. Once you have identified all of the basic tasks that you need to get done, you can make an outline of a schedule that would work for you.
In addition to all of the tasks and chores, you must accomplish daily, remember to include time for activities that you enjoy so you have something to look forward to every day. Things such as reading, watching TV, taking a hot bath, calling a friend, or playing with your kids can help you stay positive while you're completing the essential tasks of your day.
A routine that works for you
It's important to be flexible and find a routine that works for you and your family. Some people may thrive with a structured routine that is basically the same every day, while others may do better making a daily to-do list and prioritizing that list each day. If you have young or school-age children at home, it's very important for them to have structure to their day, especially if they are participating in online schooling.
Routines are even more important during times of stress and chaos, such as what the U.S. is experiencing right now. Daily rituals can offer you some control and some certainty in a situation that has neither.