Types of Diets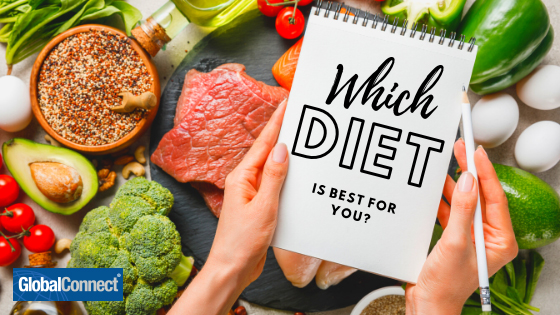 When it comes to diet and nutrition, there are a wide variety of options available, but often, deciding which type of diet would be best for you can be overwhelming. From vegan to paleo to low-carb and everything in between, all of these different styles of eating claim to be the best for nutrition, weight loss, and overall health.
Unfortunately, it's not that simple. Following a particular diet is a very personal choice and one that should be based on personal preferences, lifestyle, your state of health, any medical conditions you may have, and for some, on moral or religious beliefs. There is not one perfect diet plan—each has its benefits and pitfalls.
To help you decipher the differences in some of the most popular diet plans, here is a brief breakdown of each type.
Vegetarian
Following a vegetarian diet involves omitting meat, fish, and poultry from your diet. There are variations of vegetarianism, such as choosing not to eat any red meat, but eating seafood and poultry. Pescatarians (those who eat no meat but do eat fish) will only eat seafood but no meat or poultry. Some vegetarians choose to consume dairy products and eggs, while others do not.
Many people often adopt a vegetarian diet for religious or personal reasons, as well as ethical issues, such as animal rights. Some people may decide to become a vegetarian for environmental reasons.
In addition to the ethical and environmental reasons for not eating meat, a vegetarian diet may lower your risk for chronic diseases and some cancers, improve heart health, help with weight loss, and provide your body with important nutrients. In fact, studies show that vegetarians tend to have better quality diets than meat-eaters and a higher intake of key nutrients like fiber, vitamins C and E, and magnesium.
However, a vegetarian diet may also increase the risk of certain nutritional deficiencies. Cutting meat and other animal products from your diet could potentially create deficiencies in iron, protein, omega-3s, calcium, and vitamins D and B. Being low in these nutrients can cause fatigue, anemia, bone loss, and thyroid issues. To minimize that risk, it's important to eat a variety of fruits, vegetables, and whole grains, as well as other protein sources such as beans, nuts, and soy.
Vegan
Veganism has become more popular recently and is a form of vegetarian diet that eliminates all meat and animal products, including dairy products, eggs, fish, poultry, and animal-derived products such as honey. A vegan diet offers all of the same benefits as a vegetarian diet as well as reducing one's intake of cholesterol and saturated fat. Much like vegetarians, vegans must have a well-planned diet and find ways to ensure that they get enough protein and vitamin B12 in their diets.
Paleo
A Paleo diet is a dietary plan based on foods similar to what might have been eaten during the Paleolithic era, which dates from approximately 2.5 million to 10,000 years ago. The diet includes foods that could be obtained through hunting or gathering, including lean meats, fish, fruits, vegetables, nuts, and seeds. A paleo diet limits foods that became common when farming emerged about 10,000 years ago, which includes dairy products, grains, and legumes.
The concept of the paleo diet is to return to a style of eating that is closer to what early humans ate. It relies on the belief that our bodies are genetically mismatched to the modern diet that emerged with farming practices. To follow a Paleo diet, you would chose to eat a diet rich in fruits, vegetables, lean meats, and fish, and oils from fruits and nuts, such as olive oils and walnut oil. The diet eliminates grains, legumes, dairy products, refined sugar, salt, potatoes, and highly-processed foods.
The benefit of following a Paleo diet is that it's rich in vegetables, fruits, and nuts, which are all part of a healthy diet. Paleo diets promote weight loss, improve glucose control, reduce blood pressure, and lower cholesterol. The chief difference in the Paleo diet compared to other healthy diets is the absence of whole grains and legumes, which are considered good sources of fiber, vitamins, and other nutrients. Also missing from the diet are dairy products, which are good sources of protein and calcium.
While the Paleo diet does offer some health benefits, there are no long-term clinical studies about the potential risks of the paleo diet.
Keto
The Keto diet has become very popular. It is essentially just a variation of a low-carbohydrate diet, such as Atkins (which has been popular for many years). The keto (short for ketogenic) diet is a low-carb, high-fat diet. It requires you to drastically lower your carbohydrate intake and replace it with fat. This reduction in carbs puts your body into a metabolic state called ketosis, a state where your body becomes very efficient at burning fat for energy instead of carbs. Keto diets are very popular because they can promote rapid and significant weight loss, as well as help regulate blood sugar levels.
The keto diet completely omits fruits, grains, legumes, and sugar. Instead, followers eat fish, low-carb vegetables, cheese, meat, poultry, eggs, and fats. The disadvantages of this diet include something known as "keto flu," where people feel symptoms such as fatigue, headaches, dizziness, nausea, and emotional changes when beginning the diet. Additionally, because there is a lack of long-term research on the keto diet, doctors caution that it could cause kidney damage, nutritional deficiencies, and other side effects.
Mediterranean
The Mediterranean diet is based on the fact that people living in countries that border the Mediterranean Sea tend to live longer and suffer fewer health problems than Americans. The diet is low in red meat, sugar, and saturated fat and high in fruits and vegetables, nuts, and "good" fats, which is believed to be one of the reason's these people are healthier and live longer.
The Mediterranean diet is really more of an eating pattern than a structured diet. It emphasizes eating fruits, veggies, whole grains, beans, nuts, legumes, olive oil, and flavorful herbs and spices. It emphasizes eating fish and seafood at least a few times a week and poultry, eggs, cheese, and yogurt in moderation, while saving sweets and red meat for special occasions. It also involves having a glass of red wine most days. The Mediterranean diet offers many health benefits and is a very healthful way of eating. The only downside to this diet is that it may be too expensive for some people to maintain.