The 21st of December was the winter solstice: the shortest day of the year. In some parts of the country, darkness falls before 4:00 p.m., and the thermometer rarely reaches above freezing.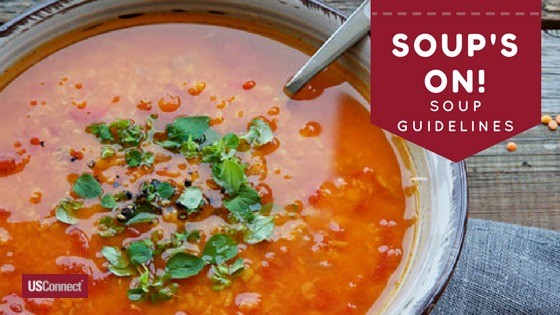 As we covered in Darker Days, it's much harder to eat healthily and stay fit during the shortest days of the season. Our bodies respond to the colder temperatures and lack of sunlight by trying to hibernate, driving us to eat more "comfort food" and sleep away the winter.
The cold weather and need for comfort during the winter often make us reach for soup. It's warm and comforting, and it can be a filling meal. However, many soups are loaded with the very unhealthy ingredients we manage to avoid during the rest of the year. Our soup roundup can help you make the best choices while still feeling warm, full, and comforted.
Soup Guidelines
Beware of sodium and monosodium glutamate (MSG). In an attempt to reduce fat and calories, many canned and boxed soups load up on salt and MSG. As part of our The Right Choice…for a Healthier You™ program, USConnect's registered dietician recommends that an entire meal should contain no more than 575 milligrams of sodium: less if you have high blood pressure. Too much salt can leave you feeling bloated and even affect your kidneys. MSG can trigger migraines, especially in people who are not used to it.
Be sensible about fat and calories. Read the label of your soup (or pay attention to the ingredients). If a soup has 280 calories and 12 grams of fat, it's not a healthy meal. Soups that aim to reduce sodium often do so by adding extra fat and calories. Look for options with no saturated or trans fats and a total fat count of two grams.
Protein lasts longer; to keep you going throughout the day, your soup should have at least five grams of protein. If it doesn't, try adding a half-sandwich, a piece of chicken, or hard-boiled egg.
Fiber fills you up. Look for soups with lots of legumes, like beans and peas, to help you feel full and satisfied. Split pea soup, chili, and black bean soup are all good, stick-to-your-ribs choices for cold days.
Want to try to make your own? Start with our Bone Broth tips!