If you feel like you are working more hours than ever before, you are in good company. The American workforce has seen many changes over the past century, and a drastic change just in the past 40 years. In 1960, according to the Center for American Progress, "only 20 percent of mothers worked. Today, 70 percent of American children live in households where all adults are employed." As the only industrialized nation in the world without a mandatory option for new parents to enjoy paid parental leave benefits, many feel the work-life balance in our country has been thrown askew.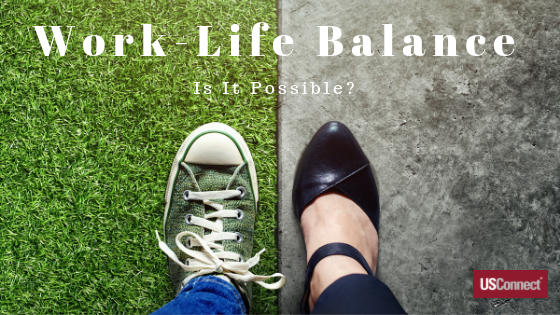 It is difficult to take time off for vacations or even if you aren't feeling 100% well when faced with the prospect that your boss might think you're not committed enough to your organization or may overlook you when it's time for the next big promotion in favor of someone who wasn't absent as much. While it's obviously important to avoid unnecessary call-ins (sick), we all need some time to relax and get away from our jobs on a regular basis. The weekends just aren't enough.
In fact, many of us don't have weekends at all. According to the Bureau of Labor Statistics, 33% of salary-employed people spent some time working on weekends—with an average of 5.53 hours worked on a weekend day. Those holding multiple jobs and self-employed people were more likely to work on weekends than those with only one job or those employed by others.
According to the International Labor Organization, "Americans work 137 more hours per year than Japanese workers, 260 more hours per year than British workers, and 499 more hours per year than French workers." When it comes to our global competitors, we are also working longer days, taking fewer vacations, and waiting longer to retire. But, before you pack up and relocate to France, allow us to present some strategies to help improve your work-life balance.
1. Leave your job at work:
While work is essential to provide for the basics in life such as your home, car, and paying the bills, it should never be a higher priority than your health and happiness. When you spend eight hours a day at your job, it becomes a large part of your life, and it's vital that you are "working to live and not living to work."
When you leave, really leave! Resist the urge to check work emails and texts after work hours unless there is absolutely some critical matter that you know you may need to attend to. (Hint: such a "critical" matter is not going to pop up often.) Try to get your work finished before heading out so that when you get home you can truly be present in the moment and not trying to finish up tidbits from your job that distract you from the people and things that you enjoy.
2. Put a priority on hobbies and activities that you enjoy:
Ask yourself what you would spend your time doing if you didn't have to work. Unless that involves sipping Mai Tais on a Caribbean beach, or exploring some other distant locale, find time around your work day that you can start regularly participating in those activities on a consistent basis. Make a point of scheduling time for this pursuit on your day planner and strictly enforcing that you take that time for yourself to enjoy.
3. Keep the importance of family in perspective:
A wise word from Heather Monahan, founder of #BossinHeels, a career mentoring group, "Realize that no one at your company is going to love you or appreciate you the way your loved ones do. Remember also that everyone from work is replaceable,  and no matter how important you think your job is, the company will not miss a beat tomorrow if you are gone." This is a great reminder that work should not take precedence over family. Don't kid yourself into believing that you'll always have time later to spend with them, because before you know it, the time is gone and the people you wish you had spent time with may have grown up or grown away from you.
4. During the work day, take a few minutes when you can close your eyes and think about something that brings you joy. Or, take those minutes to look at pictures of places and people (or pets) you love. Just taking a brief mental break from work, not talking to colleagues or reading work-related emails and memos, even for a short period of time, can refresh you and help bring balance to your work-life relationship.
5. Get outside. Nothing can soothe the soul like spending some time in nature. If you have any hiking trails nearby that will allow you to get into the woods, then seek them out. Walking in a wooded environment will provide you the sights, sounds, and scents of nature that are so lacking in our busy lives.
There is a new theory that some people suffer from "nature-deficit disorder." While this may not be a formal diagnosis, Richard Louv so aptly used it in his book (Last Child in the Woods) to describe a growing problem in our country in which humans who are deprived of nature seem to be suffering psychological, physical, and cognitive damage as a result. Allow yourself some time in a natural setting to breathe deeply and relax, totally separate yourself from your workplace, and let your mind wander to the beauty around you. If you make time to do this every week, chances are you will begin to notice a greater sense of balance in every aspect of your life.