Cookouts are a summer tradition, and let's face it, nothing tastes better than a burger or hot dog made on the grill. Grilling is not just fun and easy, it's also a healthful way to cook. There's no better time than summer to experiment with new foods cooked on the backyard grill.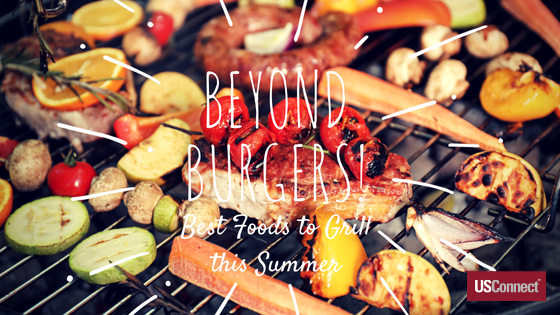 Think beyond hamburgers and hot dogs and fire up the grill to try these easy recipes. Then experiment with other foods on your own to create new summer recipes.
Vegetables
Take your favorite summer veggies from the garden or the farmers' market and season with salt and pepper, coat them with olive oil, and grill.  Think squash, eggplant, peppers, onions, mushrooms, and more.
Shrimp
Add some shrimp to the grilled vegetables and make shrimp skewers. Kids love food on a stick and will be more likely to eat their veggies!
Corn on the Cob
Corn is a great side dish for any summer meal. Grilling corn gives it a delicious, crisp texture.
Salmon
Place salmon skin-side up directly on the grill and cook for 8 minutes then flip. Season with a marinade of your choice or serve plain.
Lamb chops
Lambchops about an inch thick cook in three to four minutes on direct heat, so be sure to watch them closely.
Sweet potatoes
Cut a sweet potato in half and place each half in the center of a rectangle of aluminum foil. Turn pouches every 10 minutes until the potatoes are tender and cooked all the way through, approximately 20-30 minutes.
Pineapple and peaches
Grill slices of pineapple or peaches (or grill an entire pineapple, sliced down the middle). Serve fruit plain, or add some brown sugar and vanilla ice cream for a refreshingly sweet dessert.