You may have noticed new information appearing on some food product labels under the place where it has sugars listed. Here is an example:
Total Sugars – 13g
Includes 10g Added Sugars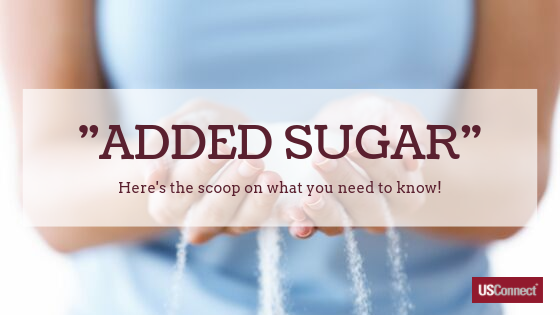 Why put added sugar rather than just the total number of grams of sugar?
Many foods, such as milk and fruits, contain naturally occurring sugar. Added sugars are extra sugars that are added to foods during processing or preparation. Food manufacturers add extra sugar to many products, even those that are already naturally sweet, to make them taste good and to boost sales. Consumers may not have been aware of the amount of extra sugar in foods they have been eating.
The new food product labeling required by the Food and Drug Administration will help you to see the amount of extra sugar added to a product, and it is provided to help consumers control the amount of sugar and other less beneficial substances they consume. They can now distinguish between sugars that are naturally present in a food and sugar that has been added to sweeten the product.
Added sugar my be the single worst aspect of the modern diet. According to the Harvard School of Public Health, sugary drinks—any beverage with added sugar or other sweeteners (sodas, pop, cola, tonic, fruit punch, lemonade [and other "ades"], sweetened powdered drinks, as well as sports and energy drinks)— as a category are the single largest source of calories and added sugar in the US diet. And to compound that, people are drinking larger and larger sizes of these drinks.
The American Heart Association informs us that the amount of calories that people consume each day has increased by approximately 150-300 calories over the past 30 years, and approximately 50% of this increase comes from liquid calories—primarily sugar-sweetened beverages. Since there are 8 teaspoons of sugar in one 12-ounce can of a regular soft drink, that is 140 empty calories and zero nutrition. The AHA recommends that women consume no more than 100 calories (6 teaspoons) of added sugar per day and that men consume no more than 9 teaspoons (150 calories) of added sugar per day.
High sugar consumption increases your risk of diabetes, high blood pressure, and heart disease, as well as obesity. Furthermore, higher consumption of sugary beverages has been linked with an increased risk of premature death.
Breaking a habit is easy to say but hard to do, so just cutting back on consuming added sugar can be a step in the right direction. Reading labels on beverages and food products will help us to monitor the amount of added sugar we are consuming.
Sugar Science is a website developed by a team of health scientists from the University of California, San Francisco. Its goal is to help individuals and communities make healthy choices by taking evidence-based scientific information about the impact of sugar on health from medical journals and making it available to the general public. The site reviews more than 8,000 scientific papers that have been published to date, with a focus on the areas where the science is strongest—specifically on diabetes, heart disease, and liver disease.