During these hot, sticky dog days of summer, it's important to stay hydrated. Overheating and dehydration can occur quickly, especially when exercising or participating in other outdoor activities in high temperatures.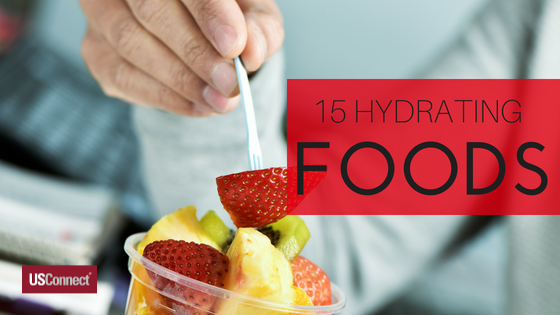 While drinking enough water is the best way to stay hydrated, getting in the required eight glasses per day can sometimes seem daunting—and that amount increases when exercising or spending a lot of time outdoors in the heat. The good news is that you don't have to only drink water to meet your daily hydration needs. You can also get a lot of your daily water intake from foods that have a high water content, mainly fruits and vegetables.
A lot of these foods can be worked into other meals, such as adding a piece of iceberg lettuce and a slice of tomato to a burger or adding a couple of slices of cucumber to your water. And what tastes better in summer than sinking your teeth into a piece of juicy watermelon or ripe strawberries? In addition to their high water content, many of these foods also offer important vitamins and minerals and can help replace any electrolytes lost during exercise.
Don't forgo drinking water entirely, but by working some of these hydrating foods into your daily diet, you will be less likely to get dehydrated when the temperatures are soaring.
Top 15 Most Hydrating Foods
Cucumber
Iceberg lettuce
Celery
Radishes
Tomatoes
Green peppers
Watermelon
Cantaloupe
Strawberries
Oranges
Peaches
Zucchini
Cauliflower
Grapefruit
Broths and soups