May is Asthma and Allergy Awareness Month. Since spring is the prime season for allergy and asthma sufferers, it is the best time to educate others about these conditions.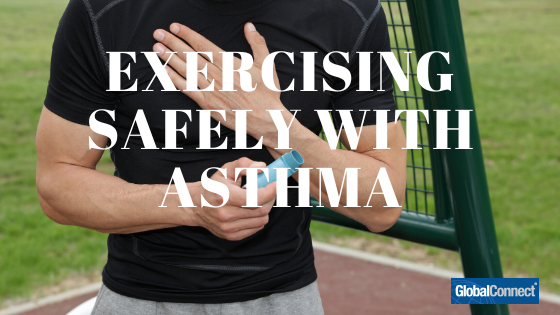 In the US, 25 million children and adults have asthma, and approximately 21 million people suffer from seasonal allergies. Additionally, about 31 million people have some type of food allergy. While both allergies and asthma are common conditions, there are several special measures people with these conditions should take as many factors can trigger symptoms that range from bothersome to life-threatening.
When it comes to exercise, people with asthma must take special precautions, as exercise in and of itself can trigger asthma attacks. People with asthma may experience trouble breathing, wheezing, coughing, or tightness in the chest during or following any physical activity. But exercise is actually beneficial for asthma sufferers, and most people with asthma can exercise safely with proper precautions and the right treatments.
Taking precautions
For those with asthma, many factors in the environment can trigger symptoms, so it is important for sufferers to learn their individual triggers. For example, exercising in very cold or very hot temperatures, dry air, air pollution, and allergens such as pollen or ragweed can all set off symptoms or a full-blown asthma attack. Most doctors recommend that people with asthma exercise in warmer temperatures because moist, warm air is better for keeping the airways lubricated and relaxed.
However, if exercising outdoors in colder temperatures, wearing a face mask that covers your mouth and nose can help keep symptoms at bay. If allergens like pollen trigger symptoms, check your area's pollen counts before heading outdoors to exercise, and switch to indoor activity on days when pollen counts are particularly high. For those with asthma, many factors in the environment can trigger symptoms, so it is important for sufferers to learn about their individual triggers.
In general, people with asthma should be careful not to overexert themselves during physical activities. If you experience asthma symptoms, you should stop exercising.
Best types of exercise
Some types of exercise and sports are more likely to cause asthma symptoms than others. Activities that require constant exertion such as soccer, hockey, or basketball are more of a problem than sports like tennis or baseball which require short bursts of physical exertion.
Good choices for exercise or sports for people with asthma include swimming, walking, hiking, yoga, golf, weightlifting, and using indoor equipment such as elliptical machines or stationary bikes. Swimming can be particularly beneficial for asthma sufferers because a swimmer's position horizontally in the water can help loosen mucus in the lungs, and breathing in warm, moist air is also good for reducing symptoms. Yoga is also a great choice as it focuses on breathing and can help increase lung capacity by strengthening muscles.
Whatever activity you choose, it's important to build up your endurance over time and do it regularly.  It's also important to use your inhaler or any other medications your doctor has prescribed to help control your asthma before or during exercise. Always make sure to have your inhaler with you or close by when exercising should you begin experiencing an asthma attack.
Exercise-induced asthma
Another special consideration is a condition known as exercise-induced asthma or exercise-induced bronchospasm (EIB). People without diagnosed chronic asthma can experience asthma symptoms that are triggered by exercise. With this condition, airways in the lungs can narrow with strenuous exercise and cause shortness of breath, wheezing, coughing, fatigue, and poor athletic performance during or after exercise.
Usually in EIB, symptoms begin soon after beginning exercise and can last 60 minutes or longer if not treated. It's important to see a doctor if you experience any of these symptoms during or after exercising, as EIB can start at any age. Just as with chronic asthma, many different environmental factors can trigger EIB symptoms including dry air, cold temperatures, allergens, or air pollution. EIB is more common with activities that require long periods of deep breathing such as running or soccer.
EIB can usually be managed effectively, and sufferers can continue participating in sports or exercise by taking medication before exercise to prevent or reduce symptoms. Most people are prescribed an inhaler containing medications that can be used approximately 15 minutes before exercise to control symptoms. These medications can also be used during exercise if symptoms arise.