Roughage, defined as coarse material, is the part of plant foods that our bodies cannot digest, but which is very important to maintaining health. The term "fiber" is used interchangeably with "roughage," but the name "roughage" seems to convey a more visual image of its true nature than "fiber."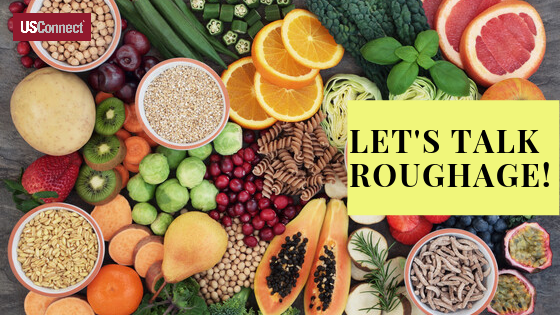 How does it work?
Varying amounts of fiber(roughage) are found in all plant foods. There are two types of roughage, soluble and insoluble, and the food we eat should have a combination of both types since they each provide different benefits. Soluble fiber absorbs water as it passes through your system becoming gelatinous and making your stools softer and easier to pass. Insoluble fiber (roughage) does not dissolve or absorb water when eaten but passes through your body much in its original form adding bulk to your stool.
Benefits of roughage in your diet.
Adequate roughage in your diet promotes a sense of well-being and health, and the following are some of its positive benefits:
Contributes to weight control. (As soluble fiber passes through your system and absorbs water, it stays in your intestinal tract a little longer—promoting a feeling of fullness and satiety which may help to prevent overeating.)
Regulates bowel movements and prevents constipation.
Slows the rate of sugar absorption and helps to prevent blood sugar spikes after eating.
Helps lower cholesterol levels and reduces the risk of dying from heart disease and cancer.
Flushes harmful bacteria and toxic substances out of the digestive tract, which helps to maintain a healthy immune system (Up to 70% of the immune system is in the digestive tract.)
How much is enough?
The amount of roughage (fiber) each person needs daily depends on the caloric needs of the individual. According to the USDA, on average, the recommended daily amount for adult men up to age 50 is 38 grams and 25 grams for women. Men over 50 should eat 30 grams of roughage daily and older women should eat 21 grams. However, the Harvard School of Public Health reports that the average adult only eats 15 grams of fiber (roughage) daily.
These are some food sources of soluble fiber: oatmeal, barley, spinach, zucchini, chia, nuts, beans, lentils, figs, apples, avocados, prunes, berries, broccoli, sweet potatoes, and onions.
Here are some sources of insoluble fiber: whole grain foods such as brown rice, wheat bran, cauliflower, okra, corn, kale, green beans, root vegetables (carrots, parsnips, potatoes, etc.), celery, cucumbers, the skins of some fruits (such as kiwis, grapes, and tomatoes), nuts, and seed.
Can't I just take a fiber supplement?
Because of medical conditions, some people may need to take fiber supplements, but fiber supplements don't supply the vitamins, minerals, and other nutrients that whole foods supply.
Is there a downside to eating more roughage (fiber)?
If upping your fiber intake, do it gradually to avoid abdominal bloating, gas, and cramps which can happen if you consume too much rapidly rather than slowly. You should also increase the amount of water you drink since soluble fiber absorbs water.
One of the easiest ways you can contribute to your good health is to become aware of the foods that contain both types of roughage and include some of them in your diet each day.