June is National Fresh Fruits and Vegetables Month. What better time to taste a rainbow of fresh fruits and vegetables?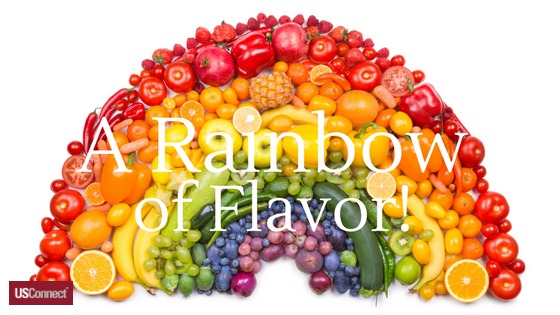 June marks the start of the height of fresh produce season in the United States, so it's no wonder that June is when we celebrate Fresh Fruit and Vegetables Month. For human resource professionals, the United States Department of Agriculture (USDA) and other federal, state, and local organizations provide a bounty of materials to promote healthy produce in the workplace. These include the following:
Printable poster and information sheets
Healthy recipes featuring fruit and vegetables
Web resources
With all the fresh choices available at USConnect's Bistro to Go!™ micro markets, and with the nutritional recommendations from The Right Choice for a Healthier You™, HR professionals can build company-wide celebrations of National Fresh Fruit and Vegetables Month. For instance, employees could participate in a recipe contest, with a potluck lunch where everyone gets to try each other's recipes. Or, employees can use the USDA's SuperTracker to keep track of how many fruit and vegetables they eat, and self-report to see who can reach their nutrition goal first.
To really celebrate National Fresh Fruit and Vegetables Month, lead a group in creating a rainbow of produce:
Red: Apples, strawberries, raspberries, red peppers, tomatoes
Orange: Carrots, orange peppers, cantaloupe, sweet potatoes
Yellow: Pineapple, papaya, yellow pepper, squash
Green: Spinach, green beans, peas, broccoli
Blue: Blueberries
Purple: Beets, plums, purple sweet potatoes, eggplant