Food is everywhere during the holiday season. From office parties to family gatherings to school functions to cookie exchanges, celebrations this time of year revolve around food. And really good food too—it's hard to resist all of the rich desserts, creamy dips, cheese balls, hors d'oeuvres, and eggnog this time of year, nor should you have to. But you also don't want to completely unravel the healthy eating habits you've established this year or gain any unwanted pounds.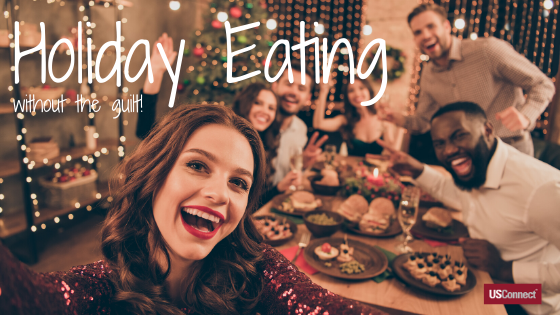 How can you enjoy all of the holiday goodies without feeling guilty? Here are some holiday eating tips that will allow you to savor every bite this season while still maintaining moderation and hopefully doing minimal damage to your waistline.
Skip seconds.
Don't pass up your favorite holiday foods, but do skip seconds. By filling your plate with the foods you enjoy the most, you will be more mindful of not overeating.
Less is more.
Choose to eat two of your favorite Christmas cookies instead of four; have just one crescent roll instead of two, and so on.
Make a swap.
If there are specific foods you don't want to miss out on, such as pecan pie or gingerbread, then limit other foods at the meal such as bread or potatoes to save on calories.
It's OK to say no.
Remember, it is perfectly acceptable to turn down food offered to you by others. Simply say, "No, thank you," or "I am full," when offered something you don't want. You are not obligated to eat everything the host offers.
Leave the leftovers.
Pass on the leftovers. Try to limit your indulgence to a special occasion such as a party or family gathering, then get back to your regular, healthy eating patterns the next day. Leftovers in the fridge are too tempting to grab when you're in a hurry instead of making a healthy meal.
Tackle the buffet, but in moderation.
When faced with a bountiful buffet table, fill your plate with moderate portions. It may be tempting to sample everything, but instead, get one small serving of the dishes you like the most, and then feel free to add more fresh veggies or fruits to keep you full. Use a small plate to help control portions.
Take just a bite.
Have just a few bites of that rich, creamy dessert rather than the whole thing. You don't need a large amount of food to enjoy celebrating with family and friends.
Hydrate, hydrate, hydrate!
If you plan to enjoy alcoholic drinks, be sure to drink one glass of water between every alcoholic drink to stay hydrated and to help with digestion.
Give yourself permission to enjoy all of the foods you may not normally eat the rest of the year, and then get back on track with your regular routine the next day.