As this blog discusses frequently, access to fresh and healthy foods can boost workplace morale and productivity. USConnect's fresh vending and Bistro To Go!™ micro markets provide team members with many fresh and healthy options. But what if you could provide even fresher options, like tomatoes that people can eat right off the vine or salads made from fresh-picked lettuces?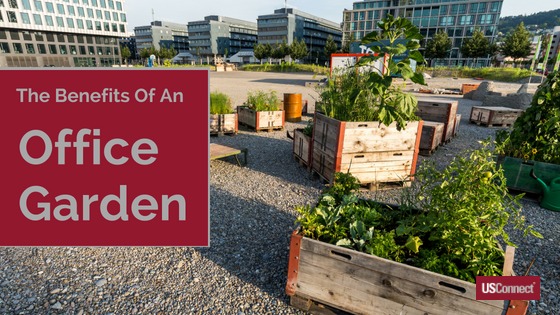 Workplace gardening is a growing trend, especially among businesses that prioritize employee wellness. Gardens can feature an array of plants—like colorful flowers, whispering grasses, and sweet-smelling lavender—that soothe the senses of all who visit it. Of course, many workplace gardens focus primarily on team members' taste buds, growing such produce as cucumbers, tomatoes, peppers, lettuces, and herbs. Employees can enjoy fresh-off-the-vine produce and revel in the simple sweetness of just-picked flavors.
Apart from the benefit of the fresh-grown produce, the act of working together on a gardening project provides the kind of teamwork and camaraderie for a fraction of the cost of expensive off-site, team-building retreats. Gardening provides natural shared tasks and rewards, especially after a few weeks when team members can start seeing tangible results of their hard work.
Further, the very act of working outside can have significant benefits for health and productivity.  According to Harvard Health Publishing at Harvard Medical School, spending time outside has five distinct positive effects:
Increased vitamin D levels
Increased activity levels
Elevated sense of happiness and well-being
Improved concentration
Faster healing
A workplace garden can be as simple as a raised bed next to the parking lot or as grand as an acre of off-site farmland. In urban areas, "green roofs" provide the extra benefit of helping to offset global climate change. Employee interest and satisfaction in workplace gardens tends to be very high. Why not start one today?