Avoiding Exercise Injuries
Whether you're just starting out with an exercise routine or are a seasoned athlete, injuries can and do happen. But exercise injuries don't have to be inevitable. There are simple steps you can take to exercise smarter and reduce your risk for some of the most common fitness injuries such as strains, sprains, and muscle tears.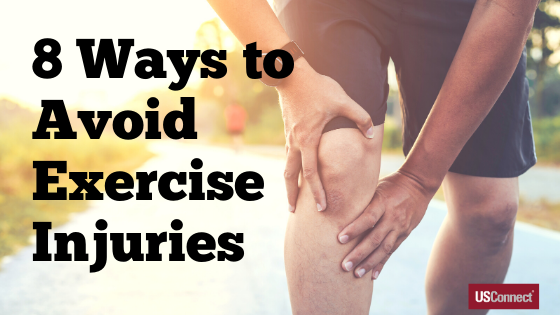 1. Have an annual physical.
There's a reason it's recommended that you see your doctor before starting a fitness program. Any new activity can place stress on your body, especially your joints and heart. Your doctor can perform a fitness test using a treadmill as well as other tests to check your cardiovascular system and to determine if you have any limitations.
2. Use a personal trainer.
If your gym offers the services of a personal trainer, take advantage of it, especially if you are new to exercising. A qualified trainer can help you avoid many of the bad habits that affect even seasoned athletes, and teach you how to concentrate on form when performing exercises. Even just a few sessions with a personal trainer will be beneficial to show you how to perform exercises correctly to avoid injury.
3. Know your limitations.
Knowing your body and your personal limitations is one of the best ways to avoid injury. It's important to avoid activities that push too hard on any weak areas you may have. For example, if you have knee issues, you'll want to avoid using a stepper or running on a treadmill; if you deal with hip problems, a spinning class could exacerbate your problem.
4. Listen to your body.
In addition to knowing your body's limitations when working out, it is never normal to feel pain. Pain is a signal from your body that you are placing too much stress on a certain muscle or joint, and continuing to exercise when you feel pain risks injury. If you feel pain at any point during exercise, even a muscle cramp, you should immediately back off and rest that muscle. You can switch activities or work a different muscle group; for example, if you are feeling pain in your ankle, then move to working out your arms.
5. Warm-up.
You should always take the time to stretch and warm-up before exercising. Even if you're in great shape, your muscles and tendons will be tight before you begin exercising. If you don't warm up, you risk injuring muscles by straining them or even rupturing a muscle or tendon. Spend several minutes stretching or walking before jumping into your exercise routine. Warm-ups go a long way in preventing injuries.
6. Start slowly and work up gradually.
If you're just starting out, it's important to begin an exercise program by gradually building up intensity as your fitness improves. Start with moderate activity for 20 minutes, three times per week, and build from there by slowly adding time to your session and more frequency to workouts.
7. Wear proper clothing and shoes.
Many sports injuries are the result of improper footwear. Investing in a good pair of sneakers that are designed for the sport or exercise you are doing will protect your feet and ankles, and help prevent injury. Likewise, proper workout clothing is essential for comfort. You don't have to spend a lot of money to find workout wear that provides protection and is designed to wick away sweat and prevent overheating.
8. Fuel your body.
Working out on an empty stomach will be harder on your body. While you don't want to work out immediately following a meal, eating the right foods two hours before a workout will give your body the proper fuel it needs to perform. Hydration is just as important.  Drink 16 oz. of water at least two hours before working out, and sip on water during your workout to keep from becoming dehydrated. After working out, replenish with more water. Hydrated muscles are less likely to become injured.