Micro markets are all the rage in the vending industry. They take up an increasing share of vending revenue and are responsible for much of the vending industry's success in 2019. But have you ever wondered what, exactly, a micro market is?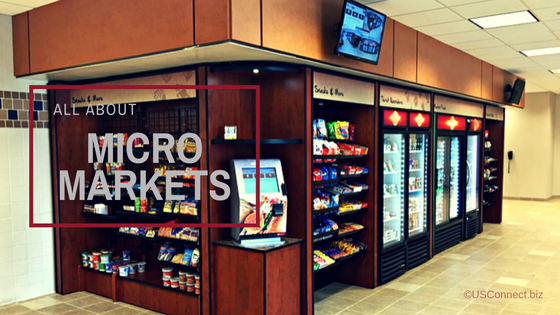 Industry group Vending How describes a micro market as "a small, self-contained store in a location without an employee to monitor it."  It's comprised of freestanding storage, such as shelves, that hold a product and a checkout system installed nearby. Micro markets offer more choice than traditional vending machines, particularly in the realm of fresh food. However, unlike an actual convenience store, they don't need to be staffed, and they have a much smaller footprint, making them very cost-efficient.
The National Automatic Merchandising Association (NAMA) cautions that while it's fine to emphasize the convenience of micro markets, operators should refrain from comparing them to convenience stores. Full-service convenience stores tend to offer a larger variety of choices, but they are often limited in terms of offering local choices. Micro markets can capitalize on their small size by buying from local and regional food producers.
As we've discussed, three of the biggest trends in foodservice are fresh, local, and convenient. Micro markets can respond to all three of these trends with more agility than any fast-food restaurant or convenience store. USConnect's Bistro To Go!® micro markets and The Right Choice … for a Healthier You™ program combine convenience, freshness, and health all in one place.