National Walk to Work day was during the first week of April… when most of the Eastern Seaboard saw rain, snow, and record low temperatures. Since spring appears to be on a delay this year, let's extend this celebration for the rest of the month—and enjoy the health benefits that walking brings.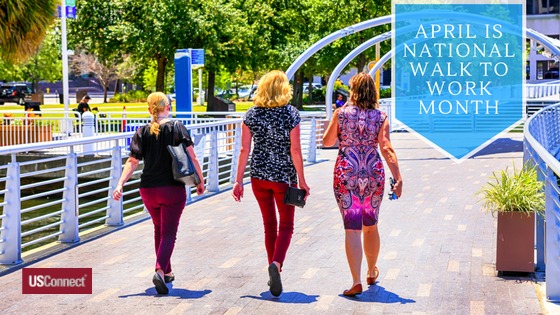 It should be no surprise that walking gets its own national holiday. Walking has many proven benefits, including these, according to the Arthritis Foundation:
Improved circulation
Better bone density
Extended life expectancy
Improved mood
Weight loss
Stronger muscles
Better sleep
Joint support
Better lung function
Improved memory retention and lowered risk of Alzheimer's
You may not be able to actually walk to work, whether because of distance, safety, or  the amount you have to carry. However, for National Walk to Work Day, Week, or Month, you can walk at work. Aim for 30 minutes a day; that may seem like too long a break to take, but how about six breaks of five minutes each? This has the added benefit of improving your concentration and staving off the back pain that results from excessive sitting.  Add an alarm to your smartphone or computer to remind you to walk, or set your fitness tracker to vibrate a reminder.
If you have to hold a meeting with only one or two co-workers, why not have it while walking around the building a few times? Or build time into your lunch break to walk before and after eating; it will improve your digestion as well as your after-lunch productivity. To make sure you are set up to walk at work, leave a pair of good walking shoes at your desk, so you're always ready to get some steps.
The goal of National Walk to Work Day is to encourage people to make walking a habit: not just for one day, but every day. Let this April be the month you start a lifetime of walking.