Maintaining a regular exercise routine during the busy holiday season is important and not just because of the risk of gaining unwanted pounds, although that's one good reason. While it may be tempting to skip your workouts with the idea that you'll start back again after the New Year as part of your resolutions, you really should make exercise a priority even when the holidays place extra demands on your already hectic schedule. Exercise can help you face many of the challenges and stressors of the next few weeks.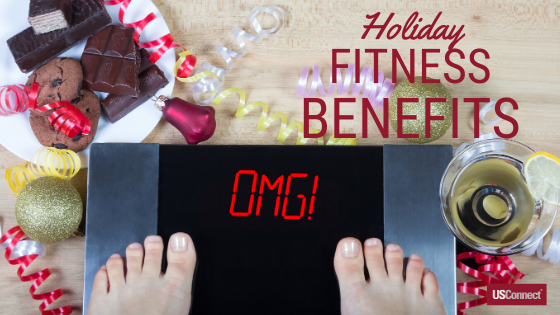 Check out some of these exercise benefits:
Preventing holiday weight gain. The most obvious benefit of continuing a regular exercise schedule is avoiding the dreaded holiday weight gain. Exercising consistently can protect you from the effects of up to a week of overeating, according to a study from the University of Michigan.
Less risk of losing workout gains. While skipping one or two workouts won't affect your overall fitness, if you regularly miss workouts during the holidays, you could face significant losses. Both cardiovascular fitness and strength could suffer if you start skipping workouts regularly; you could lose many of the benefits you've worked so hard to gain.
Reducing stress. Even though the holidays are meant to be a joyful time, they can produce added stress for a lot of people. The extra demands on your time, gift shopping, food preparation, visiting relatives, traveling, house guests, and financial worries can add up to lots of increased anxiety and stress. Exercise can reduce stress by releasing endorphins that make you feel good. It also provides you with an outlet to take out some of that stress and frustration, and gives you a guaranteed dose of daily time for yourself.
Reducing symptoms of S.A.D. Many people suffer from Seasonal Affective Disorder (S.A.D.), a  mood disorder related to change in seasons and less daylight during winter. Sufferers may feel depressed, fatigued, experience sleep problems and appetite changes, and have difficulty concentrating, among other symptoms. Exercise can help relieve depression and elevate mood. In addition, doing an outdoor workout during the day allows you to get much-needed sunlight exposure, which can benefit mood disorders.
Lowering blood pressure. Exercise lowers blood pressure—and does so right away. Whether you take a daily walk, run, or swim laps, every time you finish a workout, your blood pressure decreases and remains lower for several hours, which is beneficial for your overall health. If you're prone to high blood pressure, the added stress as well as extra salty and rich holiday foods may raise your blood pressure, so sticking to a regular exercise routine can help keep your blood pressure in check.