If you've only been grilling burgers and hot dogs this summer, it's time to take your grilling to the next level. Shake things up with these grilling recipes that are not only healthy but also easy to make. Fire up that grill and surprise your family with new tastes and flavors for the rest of the summer!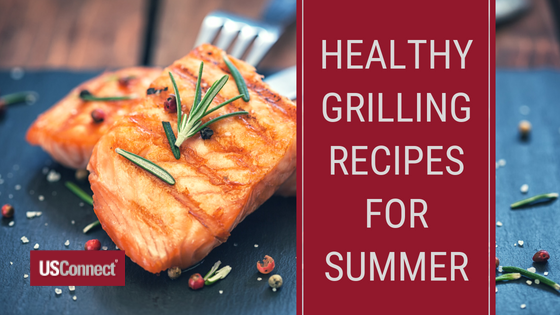 Sweet and Spicy Grilled Salmon
Ingredients
2 tbsp. hot sauce, such as Frank's
1 tbsp. packed dark brown sugar
1 tsp. smoked paprika
1/4 tsp. cayenne pepper
2 tbsp. light mayonnaise
1 tbsp. snipped chives
8 stalks celery, very thinly sliced in half moons on an angle
1/2 small red onion, very thinly sliced
Four 5-oz. center-cut skin-on salmon fillets, about 1" thick
Kosher salt and freshly ground black pepper
Vegetable oil, for oiling the grill
Directions
Preheat an outdoor grill or grill pan on medium high.
Mix together the hot sauce, brown sugar, paprika, and cayenne in a small bowl. Transfer 1 tbsp. of the mixture to a large bowl and whisk in the mayonnaise; set aside the rest of the sauce. Add the chives, celery, and onions to the bowl with the mayonnaise and toss well.
Sprinkle the salmon with salt and pepper. Brush the grill grate lightly with oil. Lay the salmon on the grill, skin-side up, and cook until distinct grill marks appear and the salmon releases easily from the grate, 2 to 3 minutes. Turn and brush the fish with some of the reserved sauce. Continue to cook the fish, brushing the pieces periodically with the sauce, until the salmon fillets are glazed and just cooked through, 13 to 15 minutes more.
Transfer the fillets to individual plates and serve with the celery slaw, made with the same sauce, made creamy with light mayo, and brightened with onions and chives.
Find the original recipe here: https://www.foodnetwork.com/recipes/food-network-kitchen/sweet-and-spicy-grilled-salmon-recipe-2112185
Chile-Rubbed Chicken with Salsa
Ingredients
4 skinless, boneless chicken breasts (about 2 1/4 pounds)
1 tbsp. extra-virgin olive oil, plus more for brushing
1 small clove garlic, finely grated
1 1/2 tsp. ancho chile powder
1 1/2 tsp. ground cumin
1 1/2 tsp. ground coriander
1 tsp. paprika
1/4 to 1/2 tsp. chipotle chile powder
4 tsp. fresh lime juice, plus lime wedges for serving
Kosher salt
2 tomatoes, diced
3 tomatillos, husked, rinsed, and diced
1/4 c. finely diced red onion
Directions
Butterfly the chicken: Slice each breast almost in half horizontally (do not cut all the way through); open like a book so the chicken lies flat.
Combine the olive oil, garlic, ancho chile powder, cumin, coriander, paprika, chipotle chile powder, 1 tsp. lime juice and 1 1/4 teaspoons salt in a large bowl. Add the chicken and turn to coat. Cover and refrigerate at least 30 minutes and up to 2 hours.
Preheat a grill to medium. Meanwhile, make the salsa: Toss the tomatoes, tomatillos, red onion and the remaining 3 teaspoons lime juice in a bowl; season with salt. Cover and refrigerate until ready to serve.
Brush the grill grates with olive oil. Grill the chicken, turning once, until marked and just cooked through, 4 to 6 minutes per side. Top with the salsa and serve with the lime wedges.
See the original recipe here: https://www.foodnetwork.com/recipes/food-network-kitchen/chile-rubbed-grilled-chicken-with-salsa-recipe-2042792
Mini Pineapple Pizzas
Ingredients
1 medium pineapple, peeled and cored
2 tbsp. canola oil, divided
8 (1-oz.) slices Canadian bacon
1/2 c. thinly sliced red onion
2/3 c. part-skim mozzarella cheese, shredded
1/2 c. lower sodium pizza sauce
2 tbsp. thinly sliced black olives
3 tbsp. chopped fresh basil
1/2 tsp. crushed red pepper flakes (optional)
Directions
Preheat broiler to HIGH with oven rack 6 inches from heat.
Heat a grill pan over medium-high. Slice pineapple into 8 (1/2-inch) rounds. Using 1 ½ tbsp. of the oil, brush oil on both sides of pineapple rounds. Working in batches, place pineapple rounds on grill pan, and cook 3 minutes on each side, until char marks appear. Transfer to a rimmed baking sheet.
Place Canadian bacon slices on grill pan and cook 1 to 2 minutes on each side until heated through. Set aside.
Heat remaining 1 ½ tsp. oil in a separate nonstick skillet over medium. Add onion and cook 3 to 4 minutes, stirring often, until softened.
Top each pineapple round with 1 tsp. cheese. Place 1 slice Canadian bacon on top of cheese. Top each with 1 tablespoon pizza sauce and 1 tablespoon cheese. Top evenly with onion and black olives. Broil on HIGH for 2 to 3 minutes, until cheese is bubbly and melted. Sprinkle basil and crushed red pepper flakes evenly over top.See original recipe here: https://www.cookinglight.com/recipes/mini-pineapple-pizzas.