Summertime has arrived and with more time spent outdoors, you'll want to make sure to use a good sunscreen to protect your skin. Unlike the 1970s and 1980s when tanning oils and the bronzed look were all the rage, we now know that using sunscreen is essential to preventing not only sunburn but long-term damage from the sun—including skin cancer.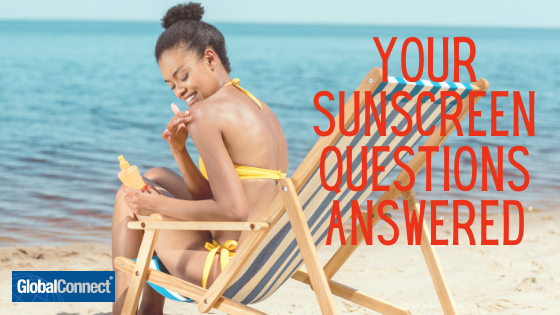 While most people adhere to this advice and aren't breaking out the baby oil to get a deep, dark tan, they still have misconceptions when it comes to sun protection. What SPF is best? How much sunscreen do I need? How often should I reapply? If I tan well, do I really need sunscreen?
Below are answers to some of the most common questions about sunscreen:
Are higher SPFs better?
Sunscreens are available with SPFs (sun protection factors) ranging from SPF 4 to SPF 100+. Most people mistakenly think that the higher the SPF, the more sun protection the product offers, but that is not necessarily true.
Dermatologists recommend that everyone use a sunscreen with an SPF of at least 30. SPF 30 blocks approximately 97 percent of UVB rays, which are the ones that cause skin cancer. For products with anything higher than a SPF 30, the difference in sun protection is minimal. No sunscreen can can offer 100 percent protection from UVB rays, and products with higher SPFs often contain more chemical ingredients that can irritate the skin. And sunscreens with higher SPFs are often more expensive.
Which sunscreen is best?
There are so many different brands and different types of sunscreens available, it would be hard to choose the best one. A lot depends on your personal preferences—whether you prefer a lotion, spray, or cream, or whether you want a chemical versus a physical sunscreen, and your preference for a specific fragrance or no fragrance at all, etc.
Whatever sunscreen you choose, always make sure it is at least SPF 30 and is labeled "broad spectrum." Broad spectrum sunscreens protect the skin against both UVA and UVB rays; that is, they protect against both the UVA rays that can cause premature skin aging, wrinkles, and age spots and the UVB rays that cause sunburn, which over time, can lead to skin cancer.
How often do I need to reapply sunscreen?
How many times have you gotten to the beach or the pool and applied your sunscreen, and then spent the day swimming and playing in the sun—forgetting to reapply and ending up with red, sore sunburned skin later that evening? One of the biggest mistakes that many people make is not reapplying their sunscreen either at all or often enough.
All sunscreens need to be reapplied at least every two hours while outdoors. If you will be spending a lot of time in the water or if you are sweating a lot, such as when exercising outdoors, then you should reapply more often. Even if a product is labeled "water-resistant," it still needs to be reapplied at least every two hours—no sunscreen is completely water-proof.
How much sunscreen do I need?
If you use too little sunscreen, you may end up with a painful sunburn. Dermatologists recommend using enough sunscreen to fill a shot glass (about two tablespoons) to cover all exposed areas of the body and face. If you prefer to use a spray, always make sure to rub in the sunscreen after spraying it on your skin to get even coverage.
It's cloudy, do I really need to wear sunscreen?
Yes, you do! Don't skimp on the sunscreen on overcast days. The sun's UV rays can easily pass through clouds, and you can still get a sunburn.
My skin tans well, do I still have to use sunscreen?
All dermatologists will tell you that there is no such thing as a healthy or safe tan. A tan is a sign that skin damage has already occurred, and it does not offer any protection against future sun exposure. A so-called "base tan" only provides the equivalent of about a SPF 4, so a tan will not protect against sunburn or skin cancer.
Whether a tan is from an indoor tanning bed or from the sun, tanning causes skin damage over time. This damage may not only lead to premature skin aging and more wrinkles, it can also lead to skin cancer.