Sleep is essential to overall health, but it's usually one of the first things to suffer when people are under stress or pressed for time. Sleep often falls low on people's list of priorities behind work, family obligations, chores, socializing, and entertainment. But skimping on sleep can have a big impact on long-term health and can negatively affect your mental clarity and emotional health in the short run.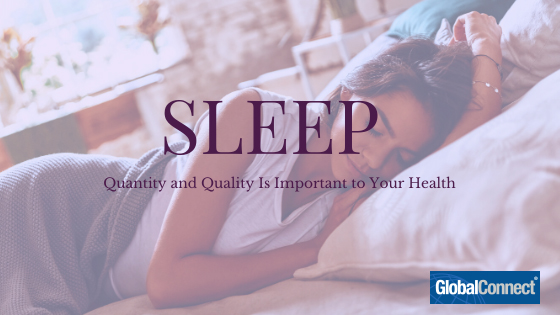 Numerous studies have found that insufficient sleep
increases the risk of developing serious medical conditions including obesity, diabetes, and cardiovascular disease. Lack of adequate sleep over time has even been associated with a shortened lifespan. Getting the right amount of high-quality sleep is just as important to your health as nutrition and exercise.
Sleep is crucial to the day-to-day functioning of your body. Studies have shown that sleep helps maintain critical body functions, restores energy, enables your body to repair muscle tissue, and allows the brain to process new information. When you don't get enough sleep, it can impair your ability to think clearly, react, focus, and control your emotions. When sleep deprivation becomes chronic, it can affect your immune system and make you more susceptible to infections and diseases.
How much is enough?
Our sleep needs change with age. It is well known that young children require more sleep than adults—you've likely seen the results of an overly-tired child who is cranky, emotional, and prone to tantrums. School-age children who don't get enough sleep can have attention and behavioral problems, which can affect academic performance.
Babies require 14 to 17 hours of sleep per night, while toddlers need anywhere from 10 to 14 hours; some of these sleep goals can be reached with daily naps. For older kids and teenagers, 8 to 11 hours of sleep is needed each night. Sleep in children is essential for brain development and growth.
For adults ages 18 to 64 years, most require between 7 to 9 hours of sleep per night, while older adults—ages 65 and up—need a little less at 7 to 8 hours per night.
Quality matters.
In addition to the amount of sleep you get each night, the quality of that sleep is equally important. If you toss and turn or wake up frequently throughout the night, you are not getting the full benefits of sleep that your body needs.
Developing healthy sleep habits can have a big effect on your sleep quality. By consistently following these tips for healthy sleep patterns, you will naturally get better quality sleep, which will have a significant impact on your overall health and well-being, and help lower your risks of developing serious health issues.
1. Stick to a sleep schedule. Go to bed at the same time every night and wake up at the same time every day. Yes, even on weekends! This will help regulate your body's natural sleep rhythms and set your internal clock, resulting in better quality sleep.
2. Establish a bedtime ritual. A relaxing routine before bed can help signal your body that it's time to wind down and sleep. Activities such as reading, a warm bath, or meditation are good choices, but avoid anything that involves bright screens such as watching TV or using devices like smartphones or computers.
3. Regular exercise. Regular, daily exercise will help you sleep better. Just don't exercise too late in the evening because it interferes with sleep.
4. Set your circadian rhythms. Exposing yourself to bright sunlight in the mornings and avoiding bright lights at night will help to set your natural circadian rhythms, the internal process that regulates the sleep-wake cycle.
5. Avoid alcohol, caffeine, and heavy meals in the evening. Alcohol and caffeine can disrupt sleep as can a heavy meal too close to bedtime.
6. When you have trouble sleeping, go to another room and do something relaxing until you feel sleepy. Reserve the bedroom for sleep and sexual activity only. Avoid bringing work materials, electronic devices, and TV into the bedroom. If you find yourself tossing and turning, get up and move to another room to read or do another quiet, relaxing activity until you feel sleepy, and then return to your bed.