Daily sunscreen use is the best way to protect your skin from both the short-term and long-term effects of the sun. Yet choosing the right sunscreen can be confusing with all of the different products on the market.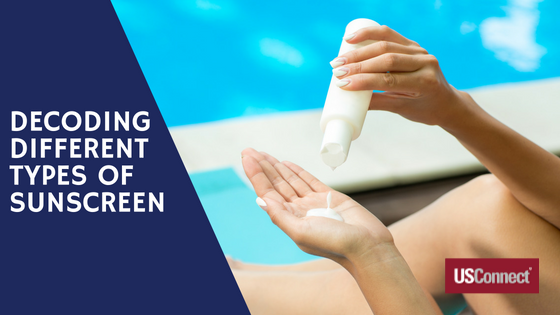 Which sunscreens are best for your skin? Understanding the differences among sunscreen products can help you make the best choice for you.
Chemical vs. physical
To put it simply, there are two types of sunscreens: chemical blockers and physical blockers.  Chemical sunscreens absorb the sun's rays while physical sunscreens sit on top of the skin and reflect harmful UV rays.
Chemical sunscreens are the big-brand products that you can easily find on most drugstore shelves. They usually contain ingredients such as octylcrylen, avobenzone, and octinoxate. While they may be widely available, they can also be more irritating to your skin, especially for those with sensitive skin, skin conditions, or acne-prone skin.
Physical sunscreens use natural ingredients like zinc and titanium oxide to block the sun's rays. They have become more popular recently with consumers' increasing concerns about chemical safety, but still aren't as easy to find as chemical sunscreens, though they do have a longer shelf life. Physical sunscreens are more gentle on the skin and are recommended by dermatologists and pediatricians for those with sensitive skin or skin conditions, as well as for children and babies.
UVA vs. UVB rays
Both UVA and UVB rays can be harmful to your skin, but not all sunscreens block both types of rays. UVA rays are the ones that cause sun damage such as premature wrinkling and age spots. UVB rays are the ones that cause those red, painful sunburns. Too much long-term exposure to either UVA or UVB sunscreens can cause skin cancer. For the best protection, chose a sunscreen that blocks both UVA and UVB rays, which will be labeled "broad spectrum."
SPFs
A sunscreen with SPF30 protects against 97 percent of the sun's UV rays while an SPF50 blocks 98 percent : beyond that, the amount of extra protection is negligible. Higher SPF sunscreen products only add more chemicals that can irritate your skin and are usually more expensive. There are no products that offer 100 percent protection. That's why all sunscreen labels remind you to reapply every two hours, especially after swimming or sweating.
The bottom line
So which sunscreen is the best? Dermatologists recommend one that is broad-spectrum, contains SPF30, and is water-resistant. The brand or whether you choose a lotion or spray are personal preferences—what is most important is that you choose one that you will use on a regular basis.