Ingredient Du Jour: Teff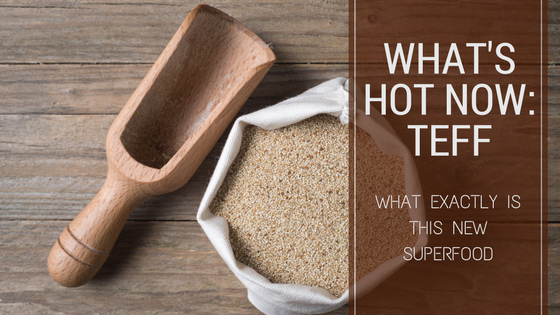 Anyone who has ever tried Ethiopian food has likely eaten injera, the spongy sourdough flatbread that serves as a plate, utensil, and food at the same time. For millennia, people from Ethiopia and other eastern African countries have made this nutritious bread from teff, a tiny grain that has been gaining traction in the United States as the next big superfood.
Whether your family has been eating teff for generations, or you're trying it for the first time, teff does seem to have significant health benefits, including these:
High levels of many minerals and nutrients, including iron, protein, calcium, copper, dietary fiber, iron, manganese, thiamin, vitamin K, and zinc
Gluten-free for those with celiac disease or gluten sensitivity
Naturally low in sodium and fat
High in fiber
High in "resistant starch," which is similar to fiber in the way it resists digestion and conversion to glucose
Teff is tiny—the size of a poppy seed. Its small size has been a boon to semi-nomadic eastern African farmers because a handful can sow a whole field. It can thrive in both droughts and flooded soils, and at elevations up to 3,000 meters. Its versatility and quick growing time (sprouting in 36 hours and ready to harvest in 12 weeks) have contributed to its outsized role in eastern African diets; in Ethiopia alone, it accounts for about 15 percent of all calories consumed.
In the United States, interest in teff has rocketed in recent years. However, until recently, Ethiopia has had a ban on exporting teff, so most of the teff that US consumers use comes from other places, including Idaho, India, and Australia. And many people are using teff in new and exciting ways:  in pancakes, as porridge, and when ground, as a replacement for wheat flour.
Ready to try teff? Check out these recipes, and look for it as an ingredient in items marked as The Right Choice … for a Healthier You™, USConnect's nutritional guideline program.