It's pumpkin spice season, and the craze has been in full effect since before Labor Day. This fall favorite flavoring can now be found in everything from coffee to Oreos, candles, and cleaning products. Whether you love it or loathe it, the pumpkin spice obsession is here to stay. The good news is that there are many surprising health benefits to pumpkin spice, but these are found in the spice's ingredients and not the popular sugary, syrupy pumpkin spice lattes or limited edition baked goods lining the shelves at the supermarket.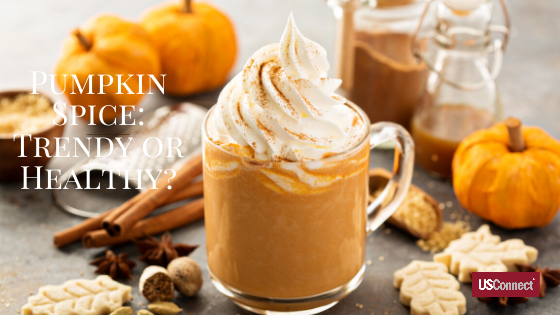 Pumpkin Spice Blend
This warming blend of spices doesn't actually contain any pumpkin; the traditional pumpkin spice blend includes ground cinnamon, nutmeg, ginger and allspice. These ingredients are all good for you if you limit the sugar that is added to most pumpkin spice drinks and baked goods.
Cinnamon
Cinnamon is the super star ingredient of pumpkin spice. It's rich in antioxidants,  which have been shown to protect cells, and it also contains anti-inflammatory  properties. There is some research which suggests that it may help improve blood glucose sensitivity and lower cholesterol. There is also ongoing research into how cinnamon may positively impact disease prevention and treatment in dementia, cancer, and HIV.
Nutmeg
This yummy fall spice contains small amounts of fiber, numerous B vitamins, and  minerals. Like cinnamon, it also contains disease-fighting antioxidants and has anti-inflammatory properties. Some research has shown that nutmeg has antibacterial effects against certain harmful strains of bacteria.
Ginger
Ginger has long been used as a natural remedy to ward off nausea, but this spicy powder also contains important minerals like iron, potassium, and zinc. Ginger has also been used for centuries for medicinal purposes to relieve cold and flu symptoms and digestive problems and to reduce inflammation.
Allspice
Allspice is native to several Caribbean islands, Mexico, and Central America and is made from a berry that is dried and ground into a fine brown powder.  Allspice contains several agents that together possess antioxidant, anti-inflammatory, antiviral, and antifungal properties. It has also been used to relieve digestive distress.
Reaping the Benefits
There's nothing like the warm, comforting aroma of pumpkin spice this time of year. It's tempting to indulge in all things pumpkin spice, especially because limited edition pumpkin spice products are everywhere. But if you want to get the health benefits from the spice, you'll have to limit the number of pumpkin spice lattes, bars, cookies, breads, and pies you consume. Many of these seasonal products contain large amounts of sugar and preservatives.
You can still enjoy pumpkin spice season without risking your health and your waistline by choosing all-natural products or better yet, making your own. Make the spice blend at home and add it to oatmeal, Greek yogurt, or homemade pumpkin bread. And you can still enjoy the occasional pumpkin spice latte, or make it healthier by requesting nonfat milk, no whipped cream, and fewer pumps of the pumpkin syrup.