Our metabolism, or the rate at which our bodies burn calories, is largely determined by age, height, and genes. However, there are a few ways to increase your body's energy use and boost metabolism. One way is through exercise, and the other way is through eating the right food.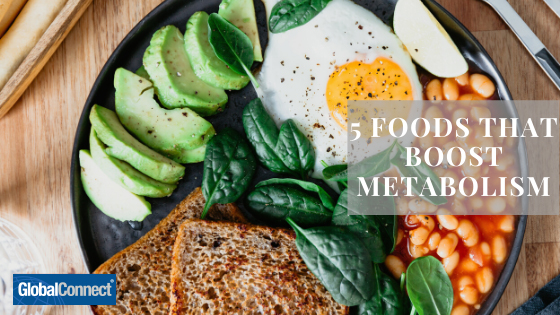 While eating certain foods can speed up or slow down your metabolism and will effect weight loss, it's actually much more complex than a simple "eat this food to boost your metabolism and lose weight."
For weight loss and weight maintenance, the amount of food we eat also matters. Eating a well-balanced meal that is high in protein, fiber, and good fats will make you feel fuller and will be more satisfying so that you are less likely to overeat at the next meal. On the other hand, if you do not eat enough calories, your body will use your muscles for energy, resulting in a loss of muscle mass and a sluggish metabolism.
There is no one miracle food that can have such a profound effect on metabolism that it would cause you to lose weight. But there are certain foods that may help increase your metabolism, as well as other foods that you should only eat in moderation or eliminate altogether.
Here are five foods that help boost your metabolism.
1. Avocados – Avocados are  high in both polyunsaturated and monounsaturated fats that can help promote satiety. They can also help reduce inflammation in the body. If you are trying to lose weight, just be careful of portion sizes and stick with eating only one-fourth to half an avocado.
2. Chili peppers – Spicy foods like chili peppers can help rev up your metabolism. Chili peppers in particular contain capsaicin, which experts have found can speed up metabolism.
3. Beans – Beans are a great source of protein and contain lots of fiber that helps to keep you full.
4. Whole grains – Replacing white flour products with whole grains that contain lots of fiber will keep you full longer, and according to a 2017 study in the American Journal of Clinical Nutrition, eating whole grains may create a "modest increase" in resting metabolic rate.
5. Eggs – Eggs are high in protein, low in calories, and fill you up. They're also a good source of B vitamins, which have been shown to increase metabolism.

Working these foods into a well-balanced, healthy daily diet along with a regular exercise program can help boost your metabolism. At the same time, there are certain foods you should avoid that can slow down your metabolism. These include refined grains like those found in processed, packaged foods, sugary drinks such as fruit juice, energy drinks, soft drinks, and alcohol, as well as granola and soybean oil.