Maybe you are bored with the same old exercise routine and want to try something different. Perhaps you are limited in your exercise choices for health reasons. Whatever the cause, here are some ideas for alternative exercise that might be perfect for a change of pace.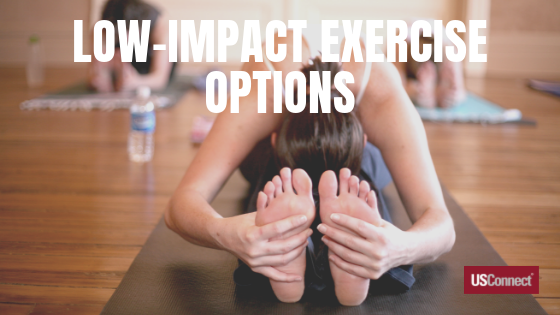 Yoga
Originating in ancient India, yoga has become a popular form of exercise in the modern world. Yoga is widely appealing because just about anyone can do it. This low-impact exercise is suitable for all ages and fitness levels. You may have images of people contorted into strange positions when you think of yoga. The basics in yoga are that you move your body into very specific postures, while focusing on breathing and energy. There is a strong focus on meditation, and many people around the world use yoga as a form of meditation.
The positions, or asanas, vary in complexity and can help develop flexibility, balance, strength, endurance, improve posture, increase core muscle strength, and release tension. Many proponents also claim it can ease pain, improve sleep, enhance mood, prevent cartilage and joint breakdown, lower blood pressure and blood sugar, increase immunity, and help regulate adrenal gland function.
There are many different styles of yoga for every lifestyle. Some classes may be done in a darkened candle-lit room as is sometimes done in Vinyasa yoga. Some rooms where yoga is practiced may be brightly lit with music pumping in the background, as in Power yoga. Other yoga classes may be conducted in a heated room with raised humidity, such as hot yoga and Bikram yoga. Contact your local fitness center to inquire about which types of yoga classes are offered, and they can help you determine which style would best suit your lifestyle and goals. Whatever style you choose to practice, wear non-restrictive clothing to sessions, and bring a towel and some water.
Pilates
Pilates was developed by Joseph Pilates in the 1920s to help injured athletes return to physical activity safely. At first glance, Pilates may seem similar to yoga because it is also low-impact, and there is a strong focus on different body positions. There is no spiritual aspect to Pilates, and the attention is solely on strengthening muscles, improving flexibility and postural alignment. Most Pilates movements target the core, although a full Pilates workout will work all areas of the body.
The benefits you may see from doing Pilates are improved posture and balance, flexibility and muscle strength, stronger core muscles, relaxation, and lower anxiety, among other things.
Typical Pilates workouts are 45-90 minutes long and may be done on thick mats (thicker than traditional yoga mats) or on machines called "reformers." Reformers have a large frame with sliding platforms and a stationary footboard. There are straps or cords with springs and pulleys to provide resistance.
When you go to your first class, you may hear some terms that are unfamiliar such as "powerhouse," which refers to the center of the body where all the power originates to perform movements. Another term, "peel through your spine," describes slow movement within the spine from vertebra to vertebra. As with yoga, it is a good idea to wear non-restrictive clothing that will facilitate stretching and bring a towel and water.
Tai Chi
Tai Chi is an ancient Chinese form of martial arts that has evolved into a non-competitive, slow series of focused and graceful movements that flow from one to the next. This type of exercise involves a lot of stretching while focusing on breathing deeply. As with yoga, there is a meditative aspect to Tai Chi. It is different from yoga in that your body is in constant but gentle motion. There are different styles of Tai Chi; some are more focused on health improvement and maintenance, while others focus more on the martial arts aspect of Tai Chi.
Because it is low-impact, Tai Chi puts minimal stress on muscles and joints—making it a safe form of exercise for any age or fitness level. Many people who are unable to exercise in traditional ways due to injury or physical limitations find that Tai Chi is an excellent alternative that allows them to stay fit and improve balance, flexibility, energy, agility, and stamina. Tai Chi is also practiced as a way to improve muscle strength and definition, to improve mood and decrease stress, anxiety, and depression.