To Supplement or Not to Supplement?
Feeling blue? Try some St. John's Wort. Getting a cold? Pop some echinacea. Even cancer has proponents of natural supplements.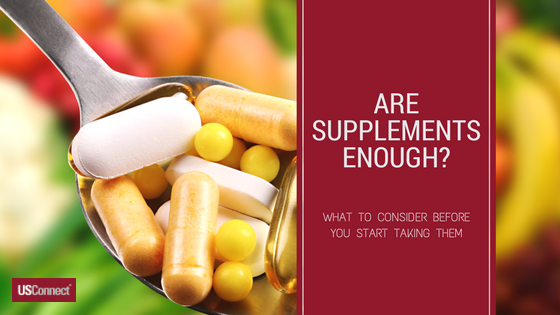 Although exact numbers range from $11.7 billion to $36.7 billion, the size of the U.S. dietary supplement market is massive… and growing daily. Marketing dietary supplements is nothing new; the first snake-oil salesmen had plenty of customers among workers on the transcontinental railroad. But with internet ads and marketing on social media, the industry has exploded.
Supplements have their champions—those who think supplements can do anything from curing cancer to cleansing your colon—and their detractors—those who think supplements are useless at best and harmful at worst. As usual, the truth is somewhere in-between.
An important fact to understand about supplements is that although marketers often sell them as substitutes for medication, they are not subject to nearly the same scrutiny and testing as prescription or over-the-counter medicine. The Food and Drug Administration (FDA) does not need to approve dietary supplements or even the claims that marketers make for their efficacy. The FDA does not test dietary supplements, so when you read a supplement's claim and its ingredients, you're relying on the manufacturer's "honor system." However, the New York Attorney General conducted a study on four major retailers of dietary supplements and found that 79 percent of them did not even contain the herb or supplement advertised or that it contained contaminants.
With the caveat emptor warning, experts say that some dietary supplements can be helpful, as long as people recognize that they are supplements to a healthy diet and lifestyle, not a replacement. The Mayo Clinic suggests that certain groups of people—those over 50, those who don't eat a balanced diet, and those who have special dietary needs—can benefit from supplements. It's important to keep up-to-date on the research around supplements, like studies that show that some supplements may actually be harmful. One Mayo Clinic doctor notes, "Any product that's strong enough to provide a potential benefit to the body can also be strong enough to cause harm."
If you're considering supplements, start by talking to your doctor about which she/he recommends and how they might interact with other medications. You can also do your own research by contacting the manufacturer and doing your research on the following websites: