According to statistics from the US Department of Health and Human Services, less than 5% of adults participate in 30 minutes of physical activity each day and only one in three get the recommended amount of physical activity each week.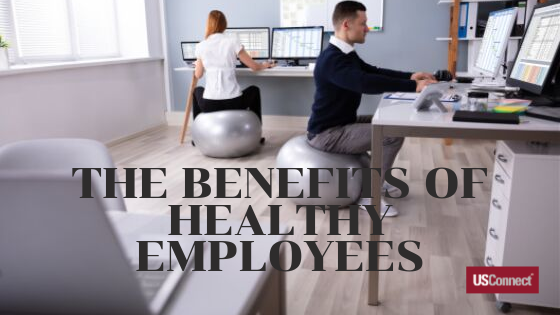 Persistent job stress and inactivity of employees in most workplaces contribute to obesity, diabetes, and other chronic diseases. Large corporations first offered wellness programs to their employees as a benefit, but as the fitness trend has grown each year, many smaller businesses have implemented programs, devices, and equipment to help employees become healthier.
Adjustable sitting/standing desks, balance balls, desk treadmills, and other devices as well as wellness programs can now be found in many office environments to help promote the health and well-being of employees. Businesses are implementing employee wellness programs because they like the benefits of having healthier employees.
What are the benefits of offering wellness programs, installing fitness centers, or other health-related equipment in an office environment? Many benefits are not measurable, but the following are among the reasons a business might start a wellness program:
Lower healthcare costs – Healthcare professionals have estimated that 70 to 90 percent of healthcare spending is for problems of chronic disease associated with unhealthy lifestyle choices—improper nutrition, too little exercise, or smoking, which costs American businesses more than one trillion dollars each year in lost productivity. From 22 studies that examined the costs of wellness programs and healthcare costs, it was found that for every dollar spent on wellness programs $3.27 was saved because of reduced healthcare costs.
Fewer lost work days – Healthier workers miss fewer days from work due to illness.
Lower stress levels – Neck, back, wrist, and arm fatigue as well as eye strain from sitting and staring at a computer during work hours contributes to fatigue and stress on the job. Exercise during wellness programs helps to dissipate stress, ease muscle strain, and provide relaxing moments—promoting a sense of well-being.
Promotes teamwork – Employees participating together in a wellness program are more likely to develop a spirit of camaraderie and teamwork which enhances the company culture and causes the employee to value the company more. Workplace wellness programs show that companies value and appreciate their employees and the employees are more loyal to their company.
Improved work performance and longer retention of employees – Since exercise increases one's ability to focus and provides more energy to perform daily activities, employees are more productive at work. Employees who have a greater sense of well-being and who feel valued by their employers are more likely to stay with their companies.
More recent studies of wellness programs in 2019 cast doubt on the benefits the programs actually produce, but many factors go into how wellness programs are initiated and supported by the businesses and corporations that started them.
There have been many studies which have examined the results and benefits of wellness programs. One study that looked at nearly 200,000 wellness program participants showed that 5 out of 7 health risks improved after one year.
One thing seems certain: Companies will end programs from which they derive no benefit for their employees or their "bottom line." The benefits of a workplace wellness program outweigh the costs.