November is National Diabetes Month and a great time to dispel some common misconceptions about this chronic condition.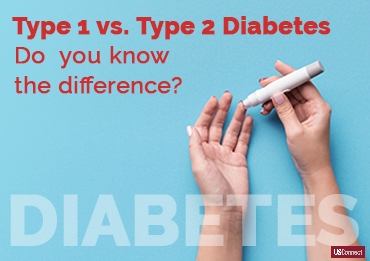 The most important distinction to understand is that Type 1 and Type 2 diabetes are not the same condition. While they share the symptom of having higher than normal blood sugars, each disease has different reasons why it develops, and each is treated and managed very differently.
Type 1 Diabetes
Type 1 diabetes is much more rare than Type 2 diabetes—only about 5 percent of people with diabetes have Type 1. Sometimes called "juvenile diabetes" because onset is common in childhood, today more than 50 percent of people in the U.S. diagnosed with Type 1 diabetes are over age 19. However, Type 1 is usually not diagnosed past the early 30s.
Type 1 is a complex disease, and experts still aren't sure what triggers it. Genetics, family history, viruses, and environmental factors play a role in who develops the disease. It is considered an autoimmune disease where the body attacks the pancreatic cells that are responsible for producing insulin. The pancreas either cannot produce enough insulin, or more often, shuts down completely and stops making insulin altogether. Without enough insulin, the body is not able to regulate blood sugar levels and provide the body enough energy. Left untreated, Type 1 diabetes can lead to a condition known as diabetic ketoacidosis, which can be fatal, which is why it's so important to know the symptoms and seek immediate treatment. The good news is that once diagnosed, it is a very manageable condition.
Unlike those with Type 2 diabetes, people with Type 1 diabetes must take insulin to live. Insulin is either injected multiple times a day with a needle or through an insulin pump, a wearable device that can function like an artificial pancreas. Those with Type 1 diabetes must also check their blood sugar levels several times a day with either a blood glucose monitor, or by using a newer device called a Continuous Glucose Monitor or CGM, which like an insulin pump, is worn on the body. Managing blood sugar levels using insulin and new technologies, combined with a healthy diet and regular exercise program, can help people with Type 1 diabetes live a long, full life.
Type 2 Diabetes
Whereas Type 1 diabetes usually develops in children or young adults, Type 2 diabetes is often called "adult onset diabetes" because it's more likely to be diagnosed in adults and elderly patients. Type 2 diabetes is the most common type of diabetes, accounting for 90 percent of all cases.
Type 2 diabetes is a metabolic disorder where the body does not use insulin properly. This insulin resistance causes the blood sugar levels to rise and cause hyperglycemia, which can lead to serious health problems if levels stay chronically high. But like Type 1, Type 2 diabetes can also be managed to prevent or lessen the chance of complications down the road.
Contrary to mainstream media's claims, Type 2 diabetes is not caused by eating too much sugar or even being overweight or obese. While weight and nutrition do play a role in the development of Type 2 diabetes, the exact cause is still not known. There are certain risk factors associated with Type 2 diabetes including a family history, being overweight or obese, unhealthy diet, sedentary lifestyle, increasing age, high blood pressure, ethnicity, and a history of gestational diabetes.
Depending on the level of insulin resistance, Type 2 diabetes can sometimes be managed through diet and exercise alone. Achieving a healthy body weight is essential to controlling Type 2 diabetes, as excess weight can cause too much stress on the pancreas and cause it to not function properly, resulting in insulin resistance. If the condition does not respond to diet and exercise, there are many oral medications available to treat Type 2 diabetes and help control blood sugar levels. In some cases, people with Type 2 diabetes may need to take insulin. Like those with Type 1 diabetes, people with Type 2 should also monitor their blood sugar levels regularly. Through a combination of medication, healthy diet, and increased physical activity, those with Type 2 diabetes can manage their condition and lead a very normal life.
Know the Symptoms
The symptoms of both Type 1 and Type 2 are similar. Extreme thirst, frequent urination, abnormal fatigue, unexplained weight loss, blurred vision, and yeast infections in women are common to both types of diabetes. If you are experiencing any of these symptoms, you should see your doctor and have your blood glucose levels tested.
Chronically high blood sugar can lead to a host of health problems if not managed properly, and both types of diabetes can lead to complications such as heart disease, stroke, nerve damage, and damage to the eyes. Fortunately, management for both types of diabetes has come a long way,  and people with diabetes can manage their conditions to lessen or prevent long-term complications.