With Valentine's Day this month, many are thinking about their sweethearts and what to get them to show their love: candy, flowers, jewelry, etc., but February is also National Hearth Month, and we should give an equal, if not greater, amount of attention to our physical hearts and what we can do to keep them healthy—that would be an important gift to give to your significant other.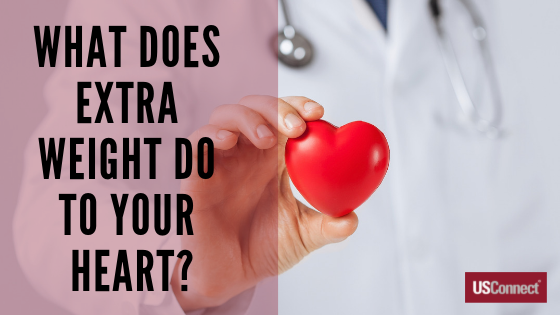 Have you thought about how your heart could be impacted by carrying around extra weight? According to the CDC (Centers for Disease Control and Prevention), more than 93 million adults in the US were classified as obese in 2015-2016. A person with a Body Mass Index of 25-29 is considered overweight, but an obese person has a BMI of 30 or greater. Morbid obesity is one with a BMI of 40 or greater. Below is a table  from the CDC that will help you to see what that means in terms of actual weight, using a 5'9" tall person as an example.
Height
Weight Range
BMI
Considered
5′ 9″
124 lbs or less
Below 18.5
Underweight
125 lbs to 168 lbs
18.5 to 24.9
Healthy weight
169 lbs to 202 lbs
25.0 to 29.9
Overweight
203 lbs or more
30 or higher
Obese
271 lbs or more
40 or higher
Class 3 Obese
We want to help you keep your heart healthy, so with that in mind, have you thought about how your heart could be impacted by carrying around extra weight? When your body is larger, you force your heart to work harder to carry blood throughout your body. This can lead to high blood pressure, which over time, can enlarge your heart or cause it to weaken, and can contribute to heart failure. Another potential effect is narrowing of blood vessels throughout your body, which can cause a stroke, heart attack, or kidney failure.
You probably acknowledge that being overweight can lead to problems with your health, but did you know that just making small changes in your weight can lead to big changes in your heart's overall function? Heart disease is one of several risk factors of carrying extra weight, but dropping just 5 to 10 percent of your weight can lower that risk.
For Valentine's Day this year, give your sweetheart the best present you can possibly give—a healthier you. Start with small changes to your diet and physical activity level:
Take the stairs instead of the elevator or look for a parking spot at the end of the lot instead of the closest one you can find.
Instead of sitting all day at work, make it a habit to get up and move at least every hour. There are also desks that are available which, with a push button, will raise up for standing or down for sitting. Stand at least part of the time when working.
Park at the end of your driveway to force yourself to carry more loads from your car to your house when bringing groceries in.
It's little changes like this that might not seem like much but which can have an impact when you do them frequently.  Also, imagine how much less frustrating it will be when you aren't searching for that "good spot" at the store. You'll feel less stress and maybe even a little pride as you hoof it past all the disgruntled drivers who are vying for that premium parking spot.
Speaking of the store, make a shopping list before you go in. This reduces the chances of impulse buying and picking up junk foods that will work against you. Make healthy food choices a priority. If your kitchen is stocked with healthy snacks and foods that are in line with your goals, it will make your efforts much easier.
Try to eat small healthy snacks frequently. When you wait too long to eat, your appetite increases, and you are more likely to overindulge when you finally do eat. Also, going too long between meals can slow your metabolism—working against you.
By cutting out just 500-1,000 calories each day, you can lose around 1 to 2 pounds per week. Try replacing that bag of chips with carrot sticks and hummus or a salad. Eat a cup of yogurt instead of a scoop of ice cream. Simple replacements will still satisfy your hunger and keep you on track to a reasonable weight loss goal.
Losing weight doesn't have to be difficult or painful. By making small, simple changes consistently and dedicating yourself to continuing these little transformations, you will find that before you know it, you have made a significant transformation in your health.
We wish you a very happy Heart's Day!