It's almost Halloween and chances are, you're getting ready to carve a Jack O'lantern. If you're planning on some pumpkin carving fun with your family, don't just throw out those pumpkin insides. There are lots of easy recipes you can make that put those pumpkin parts to good use.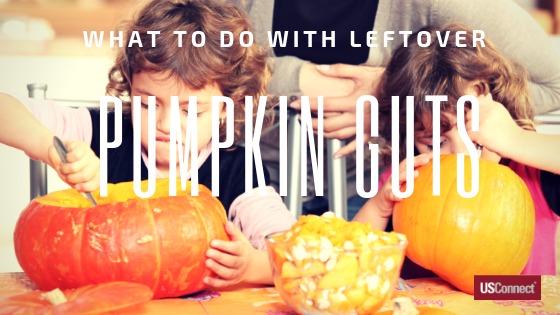 Plus, pumpkins are one of the most nutritious fruits around—they're packed with antioxidants, fiber, potassium, and Vitamin C. And don't forget about the seeds! Pumpkin seeds contain antioxidants, magnesium, zinc, and fatty acids and make a great fall snack.
Roast pumpkin seeds
Roasting pumpkin seeds is really easy and can be fun for kids too. You can eat them alone as a snack or mix them with other nuts and dried fruit for a healthy, seasonal trail mix. Just put them on a nonstick pan (in one layer), and sprinkle a little salt or other seasonings for taste,  and then roast them in the oven at 300 degrees for 45 minutes.
Make pumpkin soup
Pumpkin soup makes a great seasonal meal as the weather gets colder. Use those leftover pumpkin insides to make this creamy pumpkin soup recipe.
https://www.allrecipes.com/recipe/9191/pumpkin-soup/
Bake a loaf of pumpkin bread or muffins
Separate the seeds from the pumpkin flesh, and use the flesh to make a puree for pumpkin bread or muffins. Follow this recipe to make delicious pumpkin bread or divide into a muffin pan to make pumpkin muffins.
https://eatingrichly.com/how-to-cook-a-whole-pumpkin-and-recipe-for-pumpkin-gut-bread/
Make pumpkin juice
As you are cleaning out your pumpkin to carve, place the stringy bits and seeds into a large bowl, and soak in hot water to help soften. Mash up these pieces, and then strain so you are left with a bright orange juice. Use the pumpkin juice in smoothies or sauces.