Getting the Most BURN for Your Buck!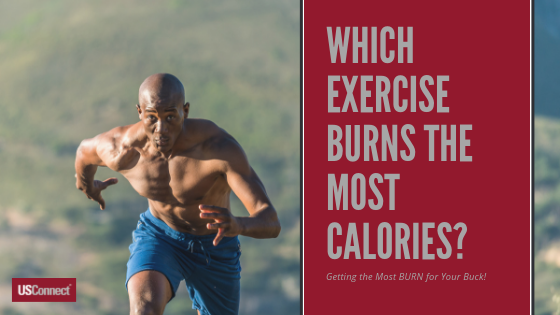 Whether you are doing squats, sprints, spinning, or swimming, you want to know that the exercise you choose is going to have a nice big return on investment when it comes to burning calories. You work hard and expect to see results, but which physical activity is going to help you reap the biggest rewards? After all, not all workouts are created equal.
If you don't have a lot of time to exercise, the good news is that you can still maximize your energy expenditure with a short duration but high intensity workout. The activities which burn the greatest amount of calories are those which use more muscle mass and also involve resistance.
An excellent cardio workout for calorie burning is sprinting. Jim White, American College of Sports Medicine spokesperson, says, "Sprinting burns a massive amount of calories, but it can only be kept up for a certain amount of time." He suggests alternating between two minutes running at the fastest pace you can sustain, and then jogging for a minute to recover before resuming the faster pace again. Running at a pace of 7.5 miles per hour, a 155-pound person can burn 465 calories in a thirty-minute span of time. That is excellent efficiency!
Tabata workouts are another incredibly efficient way to burn calories. Typical Tabata workouts will rotate between four different exercises, such as crunches, jumping rope, squat jumps, and lunges in 20-second increments followed with 10 seconds of rest. This is repeated in cycles for about half an hour. The American Council on Exercise found that in an average 20- to 30-minute Tabata workout, one can burn about 15 calories per minute, or 450 calories per half hour.
Since swimming requires using so many different muscle groups from the kicking of your legs, the stroking of your arms, and the tightening of core muscles as well, it is no wonder that this type of exercise ranks as one of the best calorie-burning cardio workouts. The type of swim stroke you choose will play a role in how many calories you burn. For example, a 155-pound person doing the butterfly stroke can burn 409 calories per half hour in comparison to 372 calories in the same time frame for the breast stroke. If you swim in the ocean, the current of the waves also gives an added challenge, upping the intensity of your workout and maximizing the calories burned.
These three types of workouts will help you burn calories fast. But, check out the exercises below to decide which type you prefer.
These activities will burn approximately the listed number of calories for a 155-pound person in a 30-minute period:
Basketball ——————————————-298 cal
Bicycling (12-13.9 mph) ————————– 298 cal
Bicycling (20 mph) ———————————614 cal
Circuit training ————————————–298 cal
Cross country hiking ——————————223 cal
Dancing slow (waltz, foxtrot, rumba)———-112 cal
Dancing fast ( bally, twist)  ———————–223 cal
Dancing (disco, ballroom, square) ————-205 cal
Elliptical trainer ———————————— 335 cal
Fencing ———————————————–223 cal
High-impact aerobics —————————–260 cal
High-impact step aerobics ———————–372 cal
Horseback riding ———————————–149 cal
Ice skating ——————————————–260 cal
Jumping rope —————————————372 cal
 Kayaking  ——————————————–186 cal
Low-impact aerobics ——————————205 cal
Low-impact step aerobics ————————260 cal
Martial arts (judo, karate, kickbox) ————372 cal
Moderate calisthenics —————————–167 cal
Moderate stationary bicycling ——————260 cal
Moderate stationary rowing ———————260 cal
Running (5 mph) ————————————298 cal
Running (7.5 mph) ———————————465 cal
Running (10 mph) ———————————-614 cal
Ski machine ——————————————353 cal
Soccer ————————————————-260 cal
Stair-step machine ———————————223 cal
Stretching, Hatha yoga —————————-149 cal
Swimming (backstroke) —————————298 cal
Swimming (vigorously) or breaststroke ——-372 cal
Swimming (butterfly or crawl) —————— 409 cal
Tai Chi ————————————————–149 cal
Tennis ————————————————–260 cal
Vigorous stationary rowing ———————–316 cal
Vigorous Tabata ————————————-450 cal
Volleyball ———————————————149 cal
Walking (4.5 mph) ———————————-186 cal
Weight lifting (vigorous) ————————–223 cal